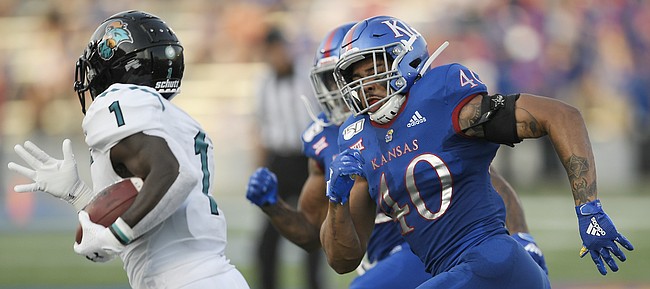 One of the Kansas football team's top defensive players early in the 2020 season, linebacker Dru Prox is looking to continue his career elsewhere.
Prox, who had previously left KU, told the Journal-World he entered his name into the transfer portal on Wednesday.
A starting inside linebacker for the Jayhawks last year, Prox opted out of the season after just four games. Though he missed one game, in the three that he played and started, Prox contributed 23 total tackles and 3.5 tackles for loss, as well as one sack, a pass breakup and two quarterback hurries.
The veteran was KU's leading tackler at the time he opted out, and he made nine total tackles at West Virginia, in what proved to be Prox's final game with the Jayhawks.
An unrated prospect by Rivals in the Class of 2016 when he joined KU, Prox redshirted during his first season with the program. He played sparingly during the 2017 and 2018 seasons before becoming a starter the following year.
However, a season-ending shoulder injury cost Prox most of his breakthrough season in 2019. He would later receive a medical redshirt and an extra year of eligibility.
The majority of the former KU players who entered the transfer portal over the course of the past several months were seniors.
Prox joined defensive backs Corione Harris and Davon Ferguson, offensive lineman Jalan Robinson and defensive lineman Clinton Anokwuru as non-senior scholarship players who left KU.
KU players from 2020 roster who entered the transfer portal
• Andrew Parchment, senior WR (Florida State)
• Elijah Jones, senior CB (Oregon State)
• Stephon Robinson Jr., senior WR (Northwestern)
• Dru Prox, junior LB
• Kyle Mayberry, senior CB (Utah State)
• Corione Harris, junior DB (McNeese)
• Davon Ferguson, junior S
• Denzel Feaster, senior LB (UTSA)
• Api Mane, senior OL
• Kyle Thompson, senior P
• Ezra Naylor II, senior WR
• Jack Luavasa, senior TE
• James Sosinski, senior TE
• Jalan Robinson, sophomore OL
• Antione Frazier, senior OL (Northern Iowa)
• Julian Chandler, senior DB
• Clinton Anokwuru, freshman DL (Louisiana)
• Hunter Kaufman, walk-on junior WR
• Lawrence Shadd III, walk-on redshirt freshman WR (Butler C.C)