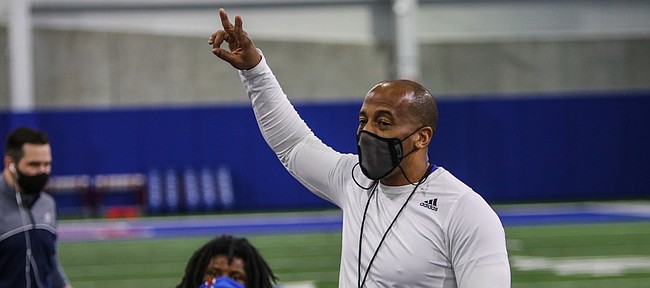 Having a different job title and the attention of the entire Kansas football team didn't affect interim head coach Emmett Jones' approach on Tuesday, at the Jayhawks' opening spring practice.
"To be honest with you, it felt like I've been down this road before," Jones said after the practice, his first in his new role. "The natural leadership abilities just kind of kick in. I didn't try to do anything different. I just tried to be myself."
KU super-senior receiver Kwamie Lassiter II, entering his third year learning under Jones, told reporters during a video conference call that his position coach brought a high intensity, motivating attitude to the practice, just as Jones has with his receivers the past couple of seasons.
"Coach Jones, he didn't change from when he was in the receiver room," Lassiter said. "He stayed true to who he was and he just wants to see us be great."
Another KU veteran, super-senior linebacker Kyron Johnson, said the Jayhawks who haven't spent as much time with Jones in previous seasons are learning about him quickly.
"When he speaks," Johnson shared, "it's like you are locked on to him. He makes sure that you're focused up."
Johnson said Jones brought some "juice" to KU's first spring practice — "you don't really see that a lot out of the head coach," Johnson added — which made him stand out as a leader.
That feeling was prevalent throughout the roster during the closed practice, according to Johnson, as the Jayhawks took another step toward moving on from a winless 2020 season and their previous head coach, Les Miles.
"That's why I say the team looks different, too," Johnson said of Jones injecting some "juice" into the Jayhawks. "It's a whole type of step up. With him, it's like, whoa, where did this energy come from? And we needed that. We need that motivation."
Jones, who also is KU's receivers coach and passing game coordinator, said leading the entire team didn't feel too different. He said part of that was because assistant coaches always view themselves as head coaches of their specific group anyway.
"So now it's just from a broader perspective — not just the wideouts. It's the whole squad now," Jones said. "It's been a special feeling, being in front of those guys, so I try to maximize it."
The way Johnson described the interim coach, Jones didn't mind "calling people out that need to be called out." The linebacker said Jones appears to be making sure the Jayhawks don't go down "that same path that we've been going down over and over and over again."
Jones' style left a strong enough impression on Johnson that he gave the interim coach an endorsement: "I wouldn't be surprised if they just stay with him as the head coach, because he's just great like that."
Partridge taking on interim assistant role
An offensive quality control staffer for KU football, Travis Partridge is helping new offensive coordinator Mike DeBord coach the Jayhawks' QBs this spring.
Jones was able to give Partridge an assistant's role on an interim basis because the Jayhawks only have 10 of the NCAA allotted 11 full-time coaching roles filled right now.
According to Jones, Partridge is a smart, hands on coach who will help the team's QBs.
"That guy's probably one of the best QB minds I've been around," Jones said, "and I've been around some good ones."
KU publishes initial 2021 roster
Coinciding with the start of spring practices, KU football on Tuesday published its 2021 roster for the first time. Below are some names that stood out — as well as some that were conspicuous by their absence.
• Linebacker Dru Prox, who opted out of the 2020 season after four games, is no longer with the program. Prox only played in three games last year, but made 23 total tackles and 3.5 tackles for loss.
• After opting out late last year, starting left guard Jacobi Lott opted back in and is with the team.
• Takulve "TK" Williams, who caught 19 passes for 95 yards as a receiver last season, has moved to safety.
• Torry Locklin, who was touted in the preseason by former head coach Miles as a potential wildcat quarterback for the Jayhawks only to end up at running back in 2020 — and appearing in just three games without recording a statistic — remains with KU. Locklin is back at QB in 2021.
• Defensive back Ryan Malbrough, who played in seven games in a reserve role last year, is no longer with the team.
• A few walk-ons from the 2020 roster have since left KU football, too, including: defensive backs Nick Caudle, Cody McNerney and Tyler Stottle and offensive lineman Jack Murphy.