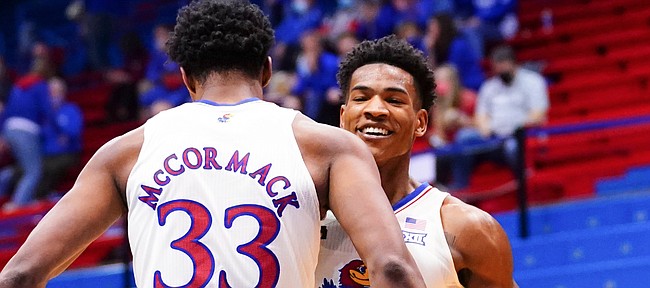 Eight Kansas men's basketball players and five more from KU's women's hoops team earned Academic all-Big 12 honors this week, the Big 12 announced this week.
The eight selections on the men's side were the most for Kansas in the 25-year history of the conference, surpassing the previous high of five academic all-conference performers set in both 1997 and 2006.
Juniors Ochai Agbaji (communication studies) and David McCormack (communication studies) were joined on the first team by sophomore Christian Braun (communications studies), redshirt freshman Dajuan Harris (liberal arts) and redshirt senior Mitch Lightfoot, who is pursuing a masters degree in sport management.
Agbaji and McCormack landed on the Big 12's Academic first team for the second consecutive year.
Joining that quintet on the team with second-team nods were senior Marcus Garrett (liberal arts), Chris Teahan (sport management) and redshirt freshman Jalen Wilson (communication studies).
The KU women earned three first-team honors (Chandler Prater, communications studies, Aniya Thomas, communications studies and Holly Kersgieter, business administration) and a pair of second-team honorees in Brooklyn Mitchell and Zakiyah Franklin, who both are majoring in sport management. The honor was the second of its kind for Mitchell.
A total of 48 student-athletes (38 first team and 10 second team) were selected to the 2021 Academic all-Big 12 women's basketball team, and the men's team included 58 players, 42 first-team honorees and 16 second teamers.
First-team members have maintained a grade-point average or 3.20 or better, while second-team honorees hold a GPA between 3.0 to 3.19 GPA.
To qualify for either team, student-athletes must maintain a 3.0 GPA or higher either cumulative or the two previous semesters and must have participated in 20 percent of their team's scheduled contests. Freshmen and transfers are not eligible in their first year of academic residence.
The KU men's program has produced a league-best 70 Academic all-Big 12 honorees since the inception of the conference in 1996-97. Texas is second with 67, followed by Iowa State (57), Texas Tech (57) and Oklahoma (56). KU has 51 Academic all-Big 12 First Team honorees and 19 second-team selections. In the Bill Self era, Kansas has had 49 student-athletes named Academic all-Big 12, including 35 Jayhawks on the first team.