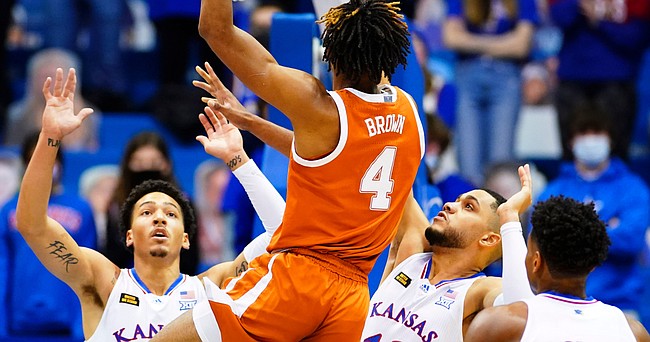 Kansas basketball coach Bill Self on Wednesday cleared up the status of the Jayhawks' roster for the opening weekend of the NCAA Tournament in the wake of three positive COVID-19 tests in the program.
We now know that junior forward David McCormack, redshirt freshman forward Jalen Wilson and sophomore wing Tristan Enaruna, in that order, all tested positive for COVID-19 and that those three are on different schedules to join the team in Indianapolis.
McCormack, KU's starting big man, is slated to join the team in Indianapolis on Friday and be in uniform for Saturday's 12:15 p.m. tipoff between No. 3 seed Kansas and No. 14 seed Eastern Washington.
Wilson, who tested positive last Friday, is on track to join the team on Monday and, if KU advances to the second round, may still have an outside chance of playing in KU's Round 2 game.
And Enaruna, who tested positive late on Selection Sunday will miss KU's first two NCAA Tournament games and could rejoin the team next Wednesday if the Jayhawks advance to the Sweet 16.
"Good news, bad news," Self called the situation during a Zoom meeting with reporters from Indianapolis.
McCormack and Enaruna, who are roommates at KU, were both held out of last week's Big 12 tournament after entering COVID-19 protocols.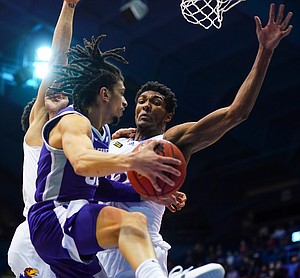 KU's hope all along has been that both players would be available to rejoin the team this week in Indianapolis. And while that still holds true for McCormack, who Self said would be in uniform on Saturday, Enaruna's appearance in the 2021 NCAA Tournament is now dependent upon his team advancing in the tournament.
Self said Enaruna's positive test result came "after numerous negative tests in a row."
"David will arrive here Friday morning, so he will practice with us Friday. We do know that," Self said Wednesday. "Tristan will not make the trip so he will remain in Lawrence until the following week if we're fortunate enough to advance."
Although somewhat encouraged by the potential of getting two starters back at various portions of the opening rounds, Self acknowledged that KU continues to test every day in Indianapolis and that the recent positive tests had created a tense situation.
"We've done a really nice job," Self said. "Our medical staff's been unbelievable as far as keeping people away from people and isolated, so you know you start to worry if there's something that triggered something within our program that may not stop or could continue. Right now, I'm nervous about each test, but I'm also very optimistic that it is going to be OK, too."
Because of McCormack's late arrival in Indianapolis, not to mention the uncertainty about what kind of physical shape he will be in when he arrives, Self said the Jayhawks were preparing for Eastern Washington with the players they've had in Indianapolis since Monday.
"I haven't focused on anything other than this game," Self said. "And in this game we're focused on being without David and David is a bonus, as opposed to playing through David.
"How much we can utilize David remains to be seen just because of how he feels and his timing and all those things. So (we're) not going to be able to count on him for a significant number of minutes I don't believe."
As for what it would take for Wilson to be cleared to play in KU's second-round game next Monday, should the Jayhawks get there, Self said that remained up in the air.
"We don't know what time the game time is," he explained. "There's certain protocols that have to be met. You know, if (his arrival is) later in the day, that would probably help. But we don't have any control over that."
Wilson and McCormack are the Jayhawks' top two rebounders and them being out or even just limited leaves the Jayhawks in the position of playing what Self deemed an "extremely, extremely small" lineup."
Self said starters Christian Braun and Marcus Garrett, along with reserve wing Tyon Grant-Foster, would have to play big for the Jayhawks.
"Christian goes from being our starting wing to also our backup 5 or Marcus could play that and maybe Tyon could play that some, too," Self said. "It won't affect as much offensively, but it'll certainly affect us defensively because we will be tiny."
Braun, who also spoke with the media via Zoom on Wednesday, did not seem worried about being asked to do more this weekend.
"We don't think we'll take a hit," he said. "That's something that we need to focus on. Everybody's just got to step up, everybody has to crash the boards and help everybody out."