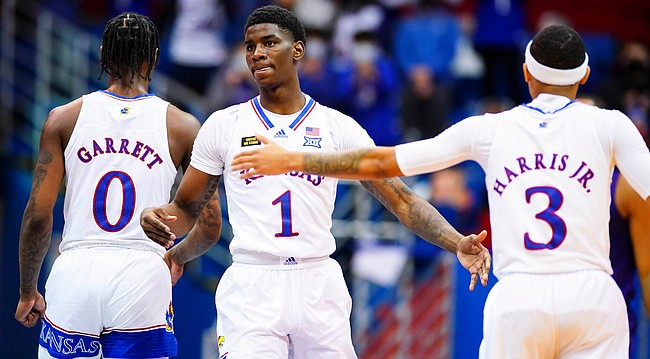 With third-seeded Kansas shorthanded entering the 2021 NCAA Tournament, KU coach Bill Self was adamant about the fact that some of his reserves would need to step up in the week ahead to help Kansas survive and advance.
"Oh, there's no question," Self said Sunday evening after the bracket was revealed.
One player who Self singled out emphatically was junior Tyon Grant-Foster.
"I haven't given Tyon Grant-Foster many opportunities to play," Self said of the juco transfer in his first year with the Jayhawks. "But as long as we all stay healthy from this point forward, he's going to get every opportunity to be an impact player for us in this tournament."
Grant-Foster, who was the top-rated junior college prospect in the country last year, has appeared in 20 of KU's 28 games this season, averaging 3.1 points and 2.2 rebounds in 8.3 minutes per game. He has not played since a two-minute stint at Kansas State on Feb. 17.
When asked about the role of KU's reserves in the week ahead, junior guard Ochai Agbaji said Grant-Foster and others would have to be "more focused than ever."
"Those guys coming off the bench are going to be special and key for us moving forward," Agbaji said. "They know their role and they're going to have to do it to the best of their ability. It's win or go home."
The Jayhawks are slated to head to Indianapolis without three of their regular rotation players. David McCormack and Tristan Enaruna are in the final stages of COVID-19 protocols and are expected to rejoin the team later this week. And a third, still-unnamed player who tested positive for COVID-19 last Friday morning was not expected to be with the team in the week ahead.
"We think that that won't be until we complete the first two games, if we're fortunate enough to advance," Self said of the player's return.

"(McCormack and Enaruna) we hope get there this next week, as long as nothing negative happens in the meantime. We're not going to count our chickens before they hatch. It's just a daily deal that you get nervous every time you test, and we'll just have to wait and see how the tests go."
Departure plans
Self said Sunday that the Jayhawks did not yet know when they would leave on Monday and that he was still awaiting word on a departure time so he could determine whether the team should practice or not.
"If we pull out here tomorrow anytime in the afternoon, we'll practice in the morning," he said. "If we pull out of here in the morning, we'll be off tomorrow because you can't do anything once you get to Indy."
Big 12 well represented
As expected, seven Big 12 teams made this year's field of 68, with No. 1 seed Baylor leading the way and Kansas, West Virginia and Texas all seeded third in different regions.
Oklahoma State (4), Texas Tech (6) and Oklahoma (8) rounded out the list of Big 12 teams included in the field.
"Obviously the conference is very well respected," Self said. "To have four teams on the 3 line or better, I think those were all deserved."
If anything, Self said he thought Texas, Oklahoma State and Oklahoma were all under-seeded.
"I thought they could be a little bit higher than that," he said. "But I think that every league in the country (could probably say that about some of their teams)."
All seven teams who defeated Kansas this season made the tournament, with Oklahoma coming in as the lowest seeded of the bunch.
Now that the seeds are in, KU's eight losses this season came to teams who carry an average seed of 3.5 into this year's NCAA Tournament.
"It just shows that we had one of the best conferences in college basketball," senior guard Marcus Garrett added.
Seeding challenges
Shortly after Sunday's bracket was unveiled, Mitch Barnhart, the chairman of the 2021 NCAA Tournament Selection Committee, joined CBS to talk through some of the challenges of putting together this year's field.
Included among them was the fact that unbalanced schedules, the impact of pandemic-related pauses and current COVID-19 concerns made it harder than ever to compare teams to one another when committee members did what's known as "scrubbing the bracket," while trying to make sure all of the seeds were right.
"It was significantly different," Barnhart said. "And trying to find a level playing field for all of that was a challenge."
Later, in an interview with ESPN, Barnhart addressed the situation surrounding Kansas and Virginia, which, like KU, pulled out of the ACC tournament because of COVID-19 issues.
"The NCAA basketball staff stayed in touch with the administrations of those schools, making sure the protocols were being met that would allow them to be available to come to Indianapolis to participate," Barnhart said. "And so, with that confidence, we were able to work through the evaluation process and place them in the field. So we're confident at this point that we're moving forward to tipoff on Thursday with a full field of 68."
Bracket basics
Shortly after the bracket was released, the NCAA unveiled the overall seed list and Kansas was ranked No. 12, making the Jayhawks the last 3 seed in the field… The 3-14 matchup has produced 21 NCAA Tournament upsets in 140 tries, as the higher seed owns a 119-21 record in first-round meetings… The last time KU was a 3 seed came in 2009 and the Jayhawks are 8-4 all-time in the NCAA Tournament as a No. 3 seed. KU also was a 3 seed in 1985, 1991, 2005 and 2009… KU is making its 49th appearance in the NCAA Tournament and owns an all-time record of 108-47 in the event… The Jayhawks have won 13 consecutive first-round games, dating back to 2007… Kansas has now been a top-four seed in 21 consecutive NCAA Tournaments, including all 17 seasons under Self.