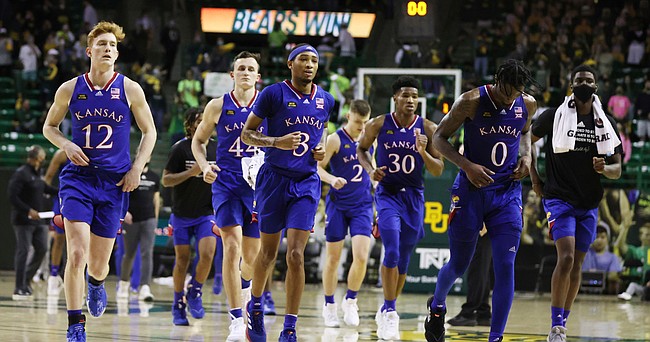 A positive COVID-19 test within the University of Kansas men's basketball program on Friday morning forced the Jayhawks to withdraw from the remainder of the Big 12 tournament.
Kansas, seeded second in the tournament and ranked No. 11 in the Associated Press poll, was slated to face No. 3 seed and 13th-ranked Texas at 8:30 p.m. Friday night at T-Mobile Center in the Big 12 semifinals.
A news release from KU just before 1 p.m. Friday said the Jayhawks would remain in Kansas City, Mo., in preparation for next week's NCAA Tournament and would test regularly and practice however possible in the days leading up to their departure for Indianapolis.
"Obviously we are disappointed and our players are disappointed that they can't continue to compete for the Big 12 championship," KU coach Bill Self said in the release. "While we have been fortunate to avoid this throughout the season, there are daily risks with this virus that everybody participating is trying to avoid. We have followed the daily testing and additional protocols that have been set up for us, (but) unfortunately we caught a bad break at the wrong time. I look forward to preparing my team in probably a unique way for next week's NCAA Tournament."
The Big 12 Conference also confirmed KU's withdrawal, saying in a release that "the cancellation follows a positive test, subsequent quarantining, and contact tracing within the Kansas men's basketball program."
Neither KU nor the Big 12 released the name of the player who tested positive.
As a result of the cancellation of what would have been KU's third matchup with the Longhorns this season, Texas will advance to the Big 12 title game on Saturday, where it will meet the winner of tonight's other Big 12 semifinal between No. 2 Baylor and No. 12 Oklahoma State.
KU's latest brush with COVID-19 comes on the heels of Thursday's 69-62 victory over No. 25 Oklahoma, which Kansas played shorthanded after junior forward David McCormack and sophomore guard Tristan Enaruna were ruled out for the Big 12 tournament because of COVID-19 protocols. A spokesman for Oklahoma's basketball program told the Journal-World on Friday afternoon that KU's positive test had not negatively impacted the Sooners and that OU would continue to test daily in accordance with NCAA Tournament guidelines.
Self said after Thursday's victory that McCormack and Enaruna stayed back in Lawrence to watch Thursday's game. The news that those players had entered COVID-19 protocol was announced on Tuesday, and it was the first time this season that Kansas had dealt with COVID-19-related problems in its own program.
Earlier this season, KU's nonconference game against Tarleton State was canceled because of a COVID-19 issue with that program, and KU's home game against Iowa State in mid-January also was rescheduled because of COVID-19 issues with the Cyclones.
The Jayhawks were the last team in the Big 12 to encounter their own COVID-19 issues. The virus forced cancellations and rescheduled games for other programs all the way to the final week of the regular season.
Now, KU's focus shifts to becoming eligible to play in the NCAA Tournament, which begins next Thursday with the First Four games in Indiana. KU, a projected 3 or 4 seed, would not play in that round but would be scheduled to play in the first round next Friday or Saturday.
The NCAA has said that teams will need to produce seven consecutive negative tests of all Tier 1 personnel (student-athletes, coaches, athletic trainers, physical therapists, medical staff, equipment staff, and officials) before even being allowed to arrive in Indianapolis. Team personnel also will be tested upon arrival in Indianapolis and throughout the tournament.
In a phone call on Friday afternoon, Self told the Journal-World that the team was confident it still would travel to Indianapolis for the NCAA Tournament next week but was also disappointed that its run in the Big 12 tournament ended prematurely.
"The endgame hasn't been affected this year," Self said. "But the short-term deal, of course, it doesn't feel very good."
KU isn't alone among major programs in having to withdraw from a conference tournament because of COVID-19. Duke and Virginia have withdrawn from the ACC Tournament after positive COVID-19 tests within those programs.