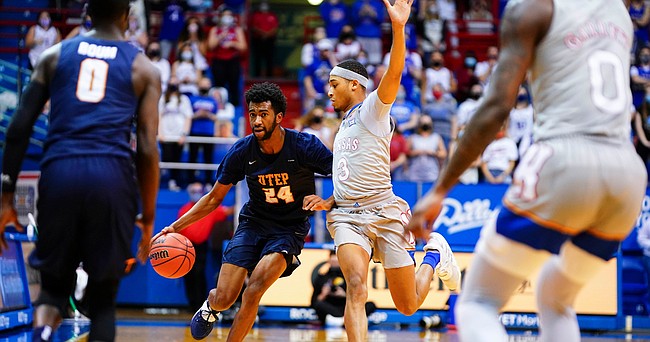 The strong showing by Kansas guard Dajuan Harris in the Jayhawks' five-point win over UTEP on Thursday included a season-high 17 second-half minutes for the redshirt freshman from Columbia, Mo.
Every one of them was important. Each one included Harris' own brand of defensive intensity. And the feeling of being out there when it mattered most did wonders for KU's backup point guard.
"It makes my confidence go way up," Harris said after KU's 67-62, comeback victory at Allen Fieldhouse. "Usually I'm not in at the end of the game, and I'm going to need that (experience) down the stretch, going into March Madness or the Big 12 tournament."
Harris played most of the second half in place of KU starter Jalen Wilson, who fought through an off night on both ends and played just seven minutes in the second half.
The reason he did was simple, according to Kansas coach Bill Self.
"To create some havoc," Self said after the win. "We're not a great team in transition, but we're a better team in transition when 'Juan's in the game because live-ball turnovers lead to transition and we don't get near as many of those when he's not in the game."
Plays like those, with Harris and KU senior Marcus Garrett pressuring UTEP's guards late, played a huge role in KU's comeback. In addition to leading to some easy buckets and momentum-changing moments, the defensive-minded duo's ball pressure made UTEP uncomfortable and took the Miners out of what they had done so well in building a convincing double-digit lead during the game's first 30 minutes.
Harris has enjoyed a few other breakout moments during his first season with the Jayhawks. But none of them have come with the game on the line the way things went down on Thursday night. And he's had a hard time stringing them together, from half to half or game to game, because of his inexperience, still-developing confidence and the inconsistent opportunity to do so.
Photo Gallery
Kansas basketball v. UTEP
View a gallery from Thursday night's game between the Jayhawks and Miners at Allen Fieldhouse.
The last time he topped 20 minutes in a game came in a home win over Kansas State on Feb. 2. And his career-high of 27 minutes came in a game he started back in early January when Garrett was out with an injury.
Harris played 25 minutes total on Thursday night, and unlike in that TCU game when he had to play in place of Garrett, the promising young point guard had Garrett on the floor with him this time around.
It's obvious that that means a lot to Harris.
"I just wanted to play my game and be aggressive on defense and help the team, following behind Marcus' lead," he said after the game.
That wasn't the last time he mentioned Garrett in his 4 minutes and 18 seconds in front of the media.
"It was Marcus' last home game," Harris said later. "I was just trying to go out (right) for him."
Harris said the lessons he has learned from Garrett this season have been too many to count, with his tenacity as a defender standing out above them all.
"Because I'm so small, I've got to be a pest on defense every play in every game," Harris said. "So I've got to bring it every time. (Self) tells me every day to be aggressive on defense and on offense. So I'm just trying to follow behind Marc and listen to coach."
As has been the case throughout much of Garrett's career, Self believes Harris' biggest strengths are on defense right now. But that doesn't mean that the Kansas coach completely discredits what Harris can bring to this KU offense.
He dished two assists in Thursday's win and currently sits right there with three KU starters for second place on the team in that department despite having played fewer than half as many minutes as all three of them.
Garrett leads Kansas with 95 assists. Jalen Wilson is second with 54. Christian Braun is right behind him with 53. And Harris and Ochai Agbaji both have 52.
Self has always loved Harris' passing and ability as a ball mover. But he believes there's more to his game than that, too.
"I think he can score," Self said. "He's got a good jump hook, he can make a wide open shot. I think people play him as a non-offensive factor, but (defenses) backing off of him I think can play to our benefit, too."
KU big man David McCormack believes that, as well, simply because of the way the Jayhawks play when Harris is on the floor.
Asked what more performances like the one Harris delivered Thursday would do for this KU team in the postseason, McCormack painted a picture of a team playing at its peak on both ends.
"That we'll have great ball movement, have great defensive possessions, that there'll be a nice flow to the game," he began. "When 'Juan comes in, the ball moves easier and then the game kind of gets to our natural rhythm where we can kind of take off or regain lead if we're down."