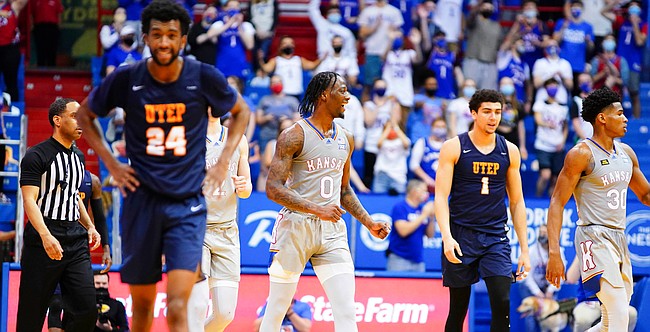 Despite leading for just 1:26 of Thursday's 40-minute game, the 13th-ranked Kansas Jayhawks survived a scare from UTEP, closing with clamp-down defense and enough offense to prevail, 67-62, at Allen Fieldhouse.
The frantic final five minutes featured enough memorable plays and missed opportunities by both teams to fill a small novel.
But when it came down to it, the Kansas defense that has been almost solely responsible for the Jayhawks' late-season turnaround delivered possession after possession to keep KU coach Bill Self from regretting scheduling the game.
"I was pissed at my sport administrator at about 8 o'clock," Self joked after the victory. "But post-8:30 I'm glad. We needed to win the game without question. But it was a real game. This was not a tune-up game. And it had an NCAA Tournament feel from the standpoint that you labor, you labor, things don't go well, but it's a long game. So it was good to play through that."
That was exactly what the Jayhawks had to do for most of the night. And it was evident early on that it would be that kind of game.
Self spent much of the game's first nine minutes playing musical chairs with the Kansas bench, constantly sitting guys and sending them back in while trying to find some kind of combination that clicked.
Meanwhile, UTEP, which was looking for its fifth consecutive victory and a signature win heading into the Conference USA tournament, played loose and got whatever it wanted offensively thanks to the strong play of forward Bryson Williams.
Williams, who finished with a game-high 23 points on 9-of-19 shooting, helped the Miners (12-11 overall, 8-8 C-USA) race out to early leads 13-4, 18-7 and 28-16 before taking a 34-20 lead into halftime.
Photo Gallery
Kansas basketball v. UTEP
View a gallery from Thursday night's game between the Jayhawks and Miners at Allen Fieldhouse.
After a second-chance layup by Christian Braun tied the game at 2, the Jayhawks missed their next 10 shots and went scoreless for 5:19.
The drought finally ended when Dajuan Harris — Self's pick for the best player in a Kansas uniform on Thursday night — hit a pair of free throws with 12:52 to play in the first half that pulled the Jayhawks within 11-4.
KU did not have to wait nearly as long for its next points. Ochai Agbaji hit a corner 3 1:25 later and pulled the Jayhawks to within six at 13-7 with 11:27 to play in the half.
That stretch was a mere microcosm for most of the rest of the game, as the Jayhawks hung around but never could quite break through to put some pressure on UTEP.
That all changed in the final eight minutes.
After Williams' final bucket of the game put UTEP up 55-46 with 8:03 to play, KU big man David McCormack went nuts and willed Kansas back into it.
McCormack, who scored two points on 1-of-6 shooting in the first half, scored eight straight points to cut the UTEP lead to one (55-54) with just over five minutes remaining.
That's when the highlights really started to show up, and they came on both ends.
Kansas (19-8 overall, 12-6 Big 12) never would have won this game without its defense down the stretch. But McCormack chose to point to another key element of Thursday's win while talking after the victory.
"We just had heart," he said. "This game was very important. It teaches us how to play from behind, show our competitiveness and close the game properly."
KU did all of those, with contributions from McCormack, Harris, Agbaji and Marcus Garrett being most crucial.
In addition to a driving layup that cut the UTEP lead back down to one with 4:34 to play, Harris delivered the pass of the night to keep KU alive.
Agbaji, who Self said "kept us in there" in the first half, drilled a 3-pointer from the far corner opposite the KU bench after catching a pass from Harris who was trapped on the other side of the lane and had to find somewhere to go with the ball.
"I was just waiting for him to go to the corner," Harris said with a smile after sharing that his first read was to Braun on the wing.
Agbaji, who finished with a team-high 19 points on 7-of-12 shooting, buried the triple to pull Kansas back within a point at 60-59.
It was at that point that officials reviewed a previous 3-point make by UTEP and ruled that the player's foot was on the line. That took a point off the board for the visitors and made it a tie game at 59-all with 3:39 to play.
"That was big time," Self said of the pass from Harris to Agbaji. "There's no chance we win the game today without Dajuan."
The backup point guard finished with six points , two assists and two steals in 25 minutes. But none were bigger than his two free throws with 17.5 seconds to play that pushed KU's lead from two to four.
Those charity shots came after Garrett scored two hard-driving layups in the final three minutes. The first gave KU its first lead of the night at 62-60 with 2:42 remaining. And the second gave KU the lead for good at 64-62 with 22.4 seconds to play.
Perhaps bigger than either of Garrett's late baskets was his defense on Williams down the stretch. KU assistant coach Norm Roberts suggested that the Jayhawks put Garrett on Williams defensively late in the game and Self elected to do it for several possessions. The move neutralized Williams and energized Kansas.
"It was a good move for us," Self said. "Of course, the unfortunate thing is, when you put him on Williams, it takes him off of (UTEP guard Souley Boum, 16 points). You can't guard them both.
"There were no 15-point plays," Self added. "But I would've tried about everything."
One of the only shot attempts Williams got with Garrett on him came late in the game, when he spun to the baseline, drove under the rim and airballed a reverse layup on the side he just came abandoned.
Warts and all, Self said he was "absolutely" pleased that the Jayhawks played Thursday's game because it gave them an opportunity to stay sharp and learn yet another lesson heading into the postseason.
"We needed a game like this," Self said. "And I'm leaving out of here feeling good. The fact that we didn't panic, I think, was a good sign."