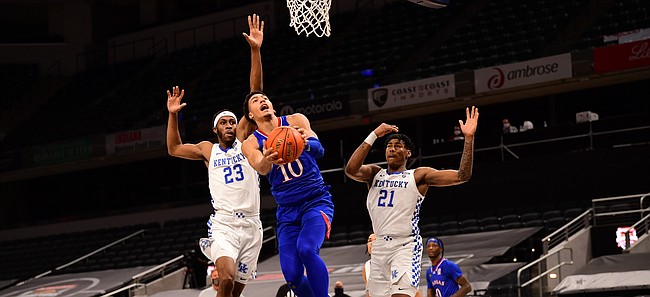 For the seventh time in the past eight seasons, the two winningest programs in men's college basketball history will face off during the 2021-22 regular season.
Kansas will host Kentucky on Jan. 29 at Allen Fieldhouse in the featured game of the ninth annual Big 12/SEC Challenge.
ESPN and the conferences announced the event's pairings on Wednesday.
With 2,323 all-time wins, Kansas sits four victories behind Kentucky at 2,327.
However, the Jayhawks made up some serious ground in the wins race during the 2020-21 season, finishing with 21 victories compared to just nine for Kentucky.
The Jayhawks have won four of the last five meetings with the Wildcats, including last year's 65-62 win in the Champions Classic in Indianapolis.
This will be the fourth meeting between the two blueblood pro-grams in the Big 12/SEC Challenge and KU has won two of the previous three.
Kansas is 5-3 all-time in the Big 12/SEC Challenge. In addition to the two wins over Kentucky, Kansas owns home wins over Florida, Tennessee and Texas A&M.;
The Jayhawks' losses have come at Kentucky, at Florida and at Tennessee.
The upcoming season will mark the seventh consecutive year when all of the Challenge's games will be played on the same day. Prior to that, the Challenge was spread out over different dates in November and December.
ESPN, ESPN2 and ESPNU will combine to televise all 10 contests, with TV designations and tip times coming at a later date.
Big 12 teams are 44-35 all-time in the Big 12/SEC Challenge and the Big 12 has won the Challenge outright in four of the eight years of its existence — 2014, 2015, 2016 and 2019. The SEC has won twice (2018 and 2021) and the conferences have tied, with each winning five games, the other two times in 2017 and 2020.
Last season, the SEC won the showdown by winning five of the nine games played. One game was canceled because of the COVID-19 pandemic.
2022 Big 12/SEC Challenge
Baylor at Alabama
Missouri at Iowa State
Kentucky at Kansas
Kansas State at Ole Miss
Oklahoma at Auburn
Oklahoma State at Florida
LSU at TCU
Tennessee at Texas
Mississippi State at Texas Tech
West Virginia at Arkansas