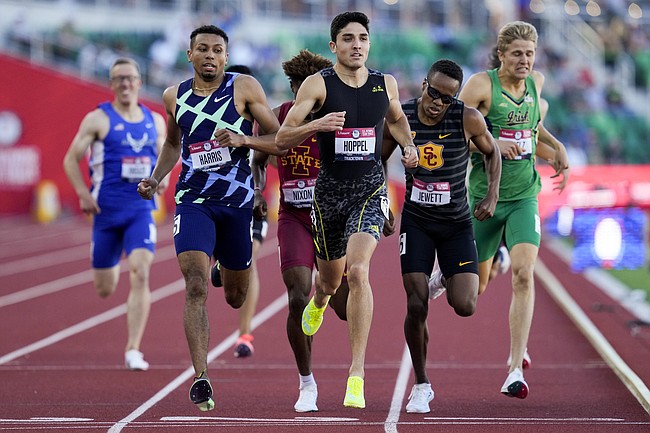 Former University of Kansas track standout Bryce Hoppel ran a top-three time on Monday night at the U.S. Olympic trials and will travel to Tokyo next month to make his first appearance in the Olympics. 
Hoppel, 23, ran a time of 1:44.14 in the 800, his signature event and the one he dominated throughout college, to claim one of Team USA's three spots in the event. 
Clayton Murphy, the bronze medalist at the Rio Games in 2016, won the race in 1:43:17. Isaiah Jewett joined Hoppel in claiming the three qualifying spots, which kept reigning world champion Donavan Brazier out after he finished eighth. 
"I tried to give it everything I had," Hoppel said in his post-race television interview. "That wasn't me out there. That was all my support, my family, my friends, my coaches, just everybody. I left it all out there. It's incredible."
According to Associated Press reports, it was 94 degrees at Hayward Field in Eugene, Ore., when the starting gun went off. An NBC thermometer on the track showed the mercury pushing 120.
Monday's result added to a strong 2021 campaign for Hoppel. In February, the former Jayhawk set a new American record in the 1,000 meters at the New Balance Indoor Grand Prix in Boston.
While at KU, Hoppel won four Big 12 titles, including a sweep of the 800-meter indoor and outdoor titles in 2019. Hoppel was also a five-time All-American and two-time national champion.
He also owns KU's indoor school record in the 800 meters and the school's second-fastest outdoor 800 time.
Since turning pro with Adidas, Hoppel has placed fourth at the 2019 IAAF World Indoor Championship in Doha, Qatar and won the 2020 USA Indoor Championship.