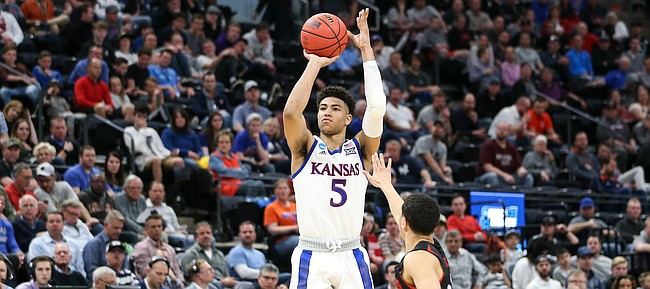 NEW YORK (AP) — The New York Knicks ended up with guard Quentin Grimes with the No. 25 pick in the NBA draft after dealing two picks that were higher.
A person with knowledge of the details said the Knicks traded the Nos. 19 and 21 picks. The swap of No. 21 for No. 25 left them with Grimes, a third-team All-American from Houston who came with a pick that belonged to the Los Angeles Clippers.
The trades were confirmed to The Associated Press on condition of anonymity because they weren't official until trade calls with the NBA. They were first reported by ESPN.
The Knicks acquired a future first-round pick by sending the No. 19 pick to Charlotte. That pick was used on Texas center Kai Jones.
Grimes was the player of the year in the America Athletic Conference after averaging 17.8 points. He shot 40.2% from 3-point range to lead the conference, making 3.3 3-pointers per game.
A native of The Woodlands, Texas, Grimes started his college career at Kansas as a five-star prospect who came to KU as a projected one-and-done prospect and future lottery pick.
His lone season at KU, which featured the combo guard starting all 36 games for the Jayhawks during the 2018-19 season, was full of highs and lows.
In 27.4 minutes per game with the Jayhawks that season, Grimes averaged 8.4 points, 2.5 rebounds and 2.0 assists while shooting 38.4 percent from the floor and 34 percent from 3-point range.
"We've all enjoyed coaching Quentin this past year and certainly appreciate his efforts," KU coach Bill Self said in late May of 2019. "We totally support and respect Quentin and his decision and wish him the very best moving forward. We believe Quentin will have a long professional basketball career and look forward to watching his development."
Grimes left KU for Houston during the 2019 offseason after initially declaring for the NBA draft and testing his NBA stock at the pre-draft combine.
He then became immediately eligible to play at Houston and delivered two strong seasons, including the 2020-21 campaign, when he helped lead the Cougars to the Final Four.