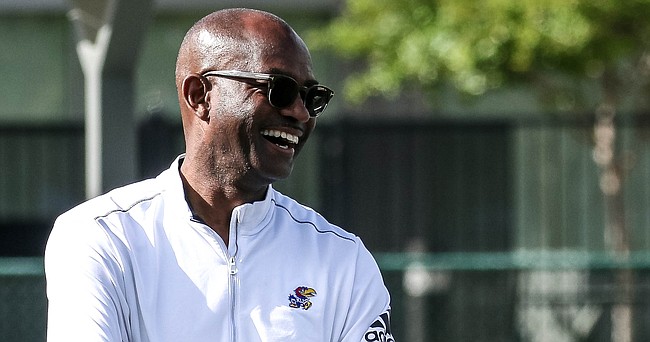 University of Kansas track coach Stanley Redwine is on the verge of seeing a dream come true.
After qualifying but coming up short at five consecutive Olympic trials as an athlete from 1980-1996, Redwine finally is headed to the Olympics with the United States track team.
Beginning next week in Tokyo, Redwine will serve as an assistant coach to head coach Michael Holloway, with his focus being mostly on the team's middle distance and distance runners.
"I'm really excited to help the athletes," Redwine recently said in a phone interview with the Journal-World. "That's the main part for me. They've worked long and hard to get to this point and it's time to go for it."
Redwine first was named to the USATF coaching staff in October of 2019, and his wait to get to the Games was prolonged a year because of the pandemic.
While the COVID-19 crisis around the world added 12 months to his wait to get to the big stage, Redwine said he thought the time passed quickly simply because he had so much to do to keep his own team safe and organized.
Now that it's here, the man who will enter his 22nd season in charge of the Kansas track program this school year said he was ready and willing to do whatever was necessary to enjoy the ride.
"It's the Olympics," he said. "This is what everybody dreams of. So I think we'll just adjust however we have to and however we can. I feel safe. But I can't worry about what I can't control. I think if we all just take care of ourselves and follow the rules, we'll be just fine."
Although the chance to work with USA Track & Field at the Olympics marks the pinnacle of Redwine's coaching career, the experience is not entirely new.
In addition to working with eight Olympians during his college coaching career, Redwine also served as an assistant coach for Team USA at the 2015 Pan-American Games.
"I've experienced things like this before," he said. "So I do kind of know what to expect. But this is even more exciting because it will be my first time at the Olympics."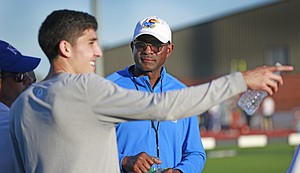 Five athletes with ties to the Kansas track program will join Redwine in Tokyo, all of them seeking to bring home a medal for their country and themselves. Redwine said those familiar faces and close relationships gives the experience "a better sense of meaning."
"I'd be excited anyway," he said. "But that makes it even more worth it."
Middle distance standout Bryce Hoppel, who will compete in the 800, is the Jayhawk Redwine figures to work with most closely during his time in Tokyo. But the KU coach vowed to do whatever he could to help the rest of the group, which in-cludes Mason Finley (discus), Gleb Dudarev (hammer throw), Alexandra Emilianov (discus) and Christina Clemons (100-meter hurdles).
"For them to know there are Jayhawk supporters screaming for them, I think that's good," Redwine said. "There won't be fans there, so it'll be up to me. Maybe if I scream loud enough it'll echo and they'll hear it throughout the stadium."
Beyond his role as part-time super fan, Redwine said he would be happy to do anything for all of the athletes who are representing the United States in Tokyo.
"Hopefully one of the things I'll be able to add is my experience as both a coach and a former athlete," he said. "If they need to know something specific about strategy or split times, I'll be there for any of them."
In addition to his past international coaching and U.S. Olympic Trials running experience, Redwine competed for Team USA at the World Championships five times (1985, 1987, 1989, 1991 and 1993) and also was a two-time U.S. 800-meter champion.
With Hoppel's signature event coming in Redwine's area of expertise, the KU coach said he was particularly excited to see how Hoppel performs against the best in the world.
"My expectation for him is the same as it is for any U.S. athlete — I want them all to win," he said. "But I will be a little biased when it comes to him."
Always looking for an edge on his collegiate competition and ways to strengthen the KU program, Redwine said he believed that being able to add his Olympic coaching experience to his resume would only help future Jayhawks.
"I think it brings instant credibility when you walk through a recruit's door," he said. "And that can really help us down the road."