Eudora — Kansas guard Ochai Agbaji said he knew he was going to come back to school "a couple of days after the combine," and that the final decision came down to him feeling comfortable with his next move.
"(It was) really just me and the mirror," Agbaji said Tuesday during a break in Washburn Basketball's satellite camp at Eudora High. "There's a lot of outside voices, different people telling you different things, (but) at the end of the day I really just had to look in the mirror and know what I wanted to do and know what's best for me."
That, as Agbaji told the world on July 6, was to come back to KU for his senior season. And the reason behind his decision turned out to be pretty simple.
After enjoying a large role as a starter during his first three seasons at KU, Agbaji experienced enough good moments to understand what playing at the highest level at Kansas can do.
"Just having that taste, I want more of that," he said Tuesday.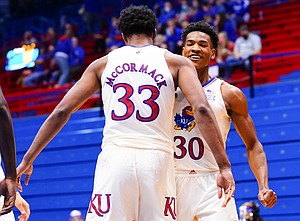 Agbaji did not leave his definition of what "more of that" means to anyone's imagination.
"Win," he said. "Win at all costs. Everything (from) Big 12 championship, Big 12 tournament championship, Final Four, national championship, the highest expectations, the high standards that we always have, I think nothing less than that.
"I really just (want) to get the most out of this, as in rings, championships, stuff like that."
Although Agbaji said he enjoyed the experience of testing his NBA draft stock, his words and his demeanor on Tuesday provided the appearance of a player who was more than happy to be back at Kansas.
He said his brief encounter with pro basketball opened his eyes to a couple of important aspects of the game beyond college. For one, he learned that life in the NBA is about much more than one's physical performance. And, two, he said the business side of being a professional basketball player was made abundantly clear to him this offseason.
During his days preparing to put his best foot forward in the draft, Agbaji worked out for three NBA teams — Atlanta, New Orleans and Toronto — and said the experience of wearing the gear and going through testing, interviews and team workouts was a lot of fun.
"It was really cool," he said. "A really good experience."
Monday was Agbaji's first official day back on the practice court with the Jayhawks, and he said getting to run around with KU's newcomers while seeing some familiar faces made him feel right at home.
"I made the right decision," he said. "It's been really good to be back."
Now, the work begins.
Although the feedback he gathered during his NBA testing helped him reach his decision, Agbaji said he did not plan to focus on improving anything in particular during his senior season at Kansas.
He said he wants to keep his body in top shape so that he can make winning plays late in games with more regularity — a key shot, avoiding a turnover, a big defensive stand — and he also is looking forward to being more of a leader on a team that he classified as "a veteran team in a way," even with so many new faces.
"I'm ready for it," he said of being a leader. "I know they're going to listen to me, and I know they're going to build confidence in me while I give them confidence, too."
While some draft analysts speculated that Agbaji's return to Kansas could help him move his way into first-round consideration in 2022, the Kansas City, Mo., native said his entire focus was on what he could do to help Kansas be successful and nothing else.
"You hear different things every year," he said. "But you really just got to focus on winning games, because, at the end of the day, that success for everybody else is success for me, too."