While playing together for four years at John Guyer High in Denton, Texas, Jalen Wilson and De'Vion Harmon often dreamed of being teammates in college, as well.
Instead, they ended up at two different Big 12 programs — Wilson at Kansas and Harmon at Oklahoma — even though a couple of schools briefly recruited both of them. And they weren't even able to face off in their first season of college ball, because Wilson was injured for nearly all of the 2019-20 season.
But when the Sooners come to Allen Fieldhouse at 3:30 p.m. Saturday, the two guards who have known each other since they were 7 or 8 years old will finally square off for the first time in their college careers.
"(I'm) very excited this year to be able to do that," Wilson said on Friday. "He's been one of my best friends for a long time."
Harmon recently described the anticipation of the matchup as "amazing."
"It's going to be great to see him. It's going to be great to compete against him," Harmon said on Thursday. "We went so many years competing with each other. And it's going to be different competing against each other. But I'm ready for it, and I know he is, too."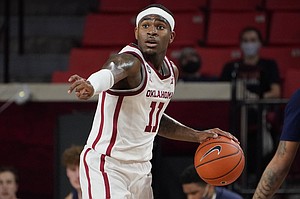 OU coach Lon Kruger was one of the coaches who recruited both Harmon and Wilson. But Wilson committed to Michigan early on in the process (he would later get a release from his commitment and come to Kansas after coach John Beilein left Michigan for the NBA). So the idea of both players becoming Sooners never really took shape.
"Good high school tandem, for sure," Kruger said of Wilson and Harmon, who combined for an average of 38 points, 12 rebounds and eight assists per game as high school seniors. "Their coach did a great job and took full advantage of the abilities of the two of them."
Asked how he thought their history might impact Saturday's meeting, Kruger said he expected the relationship would only enhance the Big 12 battle.
"Guys do that so much, whether it be high school teammates or AAU teammates or summertime competition," Kruger said. "Kids are so much more familiar (with each other) today than they were years ago, when there wasn't so much summertime activity. When it's high school teammates, it's probably a little bit more (special). There's a little bit more incentive, probably."
Harmon said there had not yet been any trash talk between the two about the matchup, including when they got together over winter break to catch up and talk about their seasons.
"When we step on that court, (we'll) just let everything else kind of take care of itself," Harmon said with a smile.
It was clear from Harmon's words and his face that he and Wilson are like brothers. And he said that while they may be adversaries on Saturday, they'll always be rooting for each other in life.
"When you go to battle with someone that many times, side by side, you often think about going to the next level together," Harmon said. "It didn't happen, but the love that me and Jalen have for each other will forever and always be there no matter what uniform we have on. The relationship goes far beyond basketball."
While Wilson was working hard to recover from the ankle injury that cost him his freshman season of college, Harmon was cheering him on. And because of that, Harmon wasn't shocked by Wilson's emergence as one of KU's go-to players and one of the early surprises in the 2020-21 college basketball season.
"It's true to the work he's put in," Harmon said. "It's just a different type of feeling when you see someone that you know, someone that you love, bounce back from an ankle injury the way he's done. It's amazing to see him do that. He's amazing. I'm super proud of him. I love him. And I can't wait to go at it."
Wilson said the two worked out together four or five times a week during the early days of the COVID-19 pandemic, and he credited Harmon for helping him come back from his injury stronger than ever.
"He's a guy that really pushes you to get better," Wilson said. "So it was really good. We both have always had the same dreams in life — playing basketball, playing together playing against each other — so I've always pushed him, he's always pushed me. So it's always (made) us better at the end of the day."
It remains to be seen how often the two will be matched up in Saturday's game. Wilson, who is 6-foot-8 and 220 pounds, has more height and weight than Harmon, who is 6-foot-2 and 198 pounds.
But because Wilson spends so much time on the perimeter in KU's attack, a matchup is likely to happen. If it does, Harmon said he'll be happy being back on the court with his close friend — with one condition.
"I hope he has a really good game on Saturday," Harmon said. "But we've got to get this win."