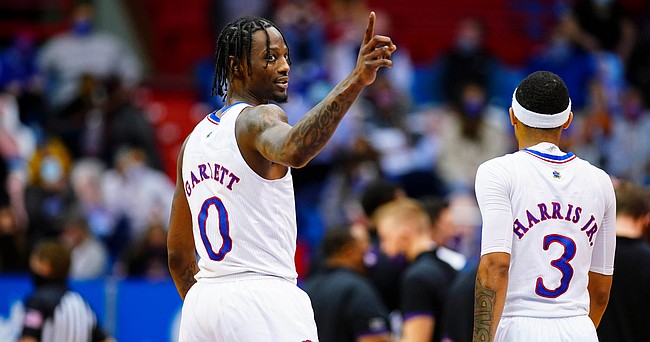 Although the Jayhawks fell to 23rd in this week's Associated Press Top 25 and are flirting with falling out of the poll for the first time in 231 weeks, Kansas basketball coach Bill Self does not believe things are as bad as it might seem on the outside.
One reason for the "doom and gloom," as Self called it, is the fact that expectations of Kansas fans are always sky high.
That's what happens when a coach guides a program to eight Elite Eights, three Final Fours and one national championship in his first 16 seasons, not to mention the unprecedented string of success in Big 12 Conference play.
Kansas, which knocked off Kansas State 74-51 on Tuesday night at Allen Fieldhouse, has not been lower than a No. 4 seed in the NCAA Tournament since Self's arrival in 2003.
Photo Gallery
Kansas basketball v. Kansas State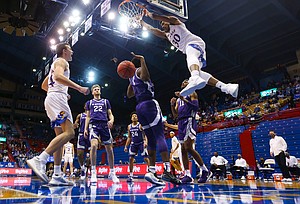 View a gallery from Tuesday night's game between the Jayhawks and Wildcats at Allen Fieldhouse.
Even though last month did not go the way the Jayhawks (12-6 overall, 6-4 Big 12) wanted, Self said this week that he was hopeful that flipping the calendar to February would mark the start of his team building some momentum down the stretch.
"February would be a great time to play our best ball," Self said.
The Kansas coach also noted that KU's loss total, though higher than Kansas fans are used to seeing at this point in the season, was not exactly anything to be embarrassed about.
"All of them are away from home except one," Self said, noting that KU's six losses have come against the Nos. 1, 2, 6, 9, 11 and 26-ranked teams in the current AP poll. "Those are hard games for anybody to win. We are 4-6 in Tier 1 games. I will be the first to admit I accept responsibility and know we have not played to the level we are capable of, (but) it is not as dire as what I think some people have pointed it out to be. We are not used to being in this spot. I'm not used to it either, in recent memory. But trust me, I've been in it."
Bryce Thompson update
Freshman guard Bryce Thompson remains on pace to return to the Kansas lineup before the end of the season, but Self said this week that the five-star guard is still several days from getting back to work.
Thompson, who broke the index finger on his right hand in KU's loss at Oklahoma State on Jan. 12, has been in a small, soft cast after having surgery to fix the finger on Jan. 14.
"He's progressing nicely," Self said Monday. "The problem is it's only been two and two and a half weeks (since surgery) and we know that we're going to be a minimum of three and a half before he can start getting into basketball type activity with contact."
Thursday marks the three-week mark since Thompson's surgery, but the reserve guard who had emerged as KU's sixth man before injuries to his back and finger sent him to the bench will need to get comfortable shooting and playing in practice again before he can return on game night.
"If there's a thought that we would have Bryce in the next week, that would be inaccurate," Self said. "Even though he's on great schedule, there's just a certain time frame that it takes for those bones to heal."
Weber sticking around?
Despite the Wildcats' rough season and ugly record, Kansas State Athletic Director Gene Taylor appears to be prepared to stick with head coach Bruce Weber into next season.
Taylor recently told Ryan Black of the Manhattan Mercury that it was "our intention" for Weber to return next season regardless of how the rest of the 2020-21 season plays out.
Asked specifically about growing frustration among K-State fans about Weber's time leading the Wildcats, Taylor said he "absolutely" understood that point of view.
"But they have to take all these things into account about the difficulties of this year, the youth of the team, the fact that we do have a talented team," Taylor told Black. "Yes, Bruce has had his ups and his downs, but he's won two conference championships, been to the Elite Eight and been to (five) NCAA Tournaments. He does everything the right way. Bruce cares a lot about these kids and this program."
In his nine seasons with the Wildcats, after succeeding Self at Illinois, Weber is now 166-124 overall and 73-82 in Big 12 play.
This and that...
With its win Tuesday night, KU now has won four straight over Kansas State and 15 in a row against their Sunflower State rival inside Allen Fieldhouse, a streak that dates back to 2007... The Jayhawks are now 8-1 at home this season and 811-115 all-time in their home venue... KU's win pushed its lead in the series with K-State to 200-94. That total is the most ever over a rival by any Division I program in college hoops history. Kansas also owns 184 wins over Iowa State (fifth most all-time) and 172 wins over both Missouri and Nebraska, which is tied for seventh on the all-time list.