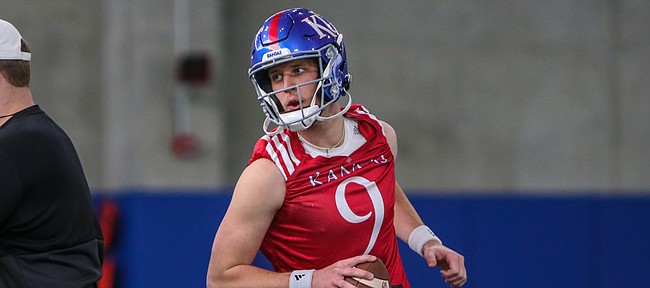 Regardless of how much — or little — they end up playing when the 2021 season arrives, the two least experienced quarterbacks on the Kansas football roster are off to a good start this spring, according to their teammates and interim head coach.
Both Conrad Hawley and Ben Easters, three-star QBs in the Jayhawks' 2021 signing class, graduated from high school early so they could enroll at KU this spring and get head starts on their respective college careers.
From the time they moved to Lawrence and showed up at the team's facility in late January, both Hawley and Easters caught the attention of those around them.
Sophomore QB Jalon Daniels told reporters recently that both true freshmen stood out as "strong leaders" once they officially joined the roster.
"I've learned a lot from Conrad and Ben. Even though they're younger than me, they're always pushing me literally every single day to be the best quarterback that I can be," Daniels said, referencing what has been described as an "all-out race" with the QB competition.
Added Daniels: "I feel like they came in and adjusted to the college life and the quarterback room perfectly to be honest."
Hawley, a 6-foot-5, 220-pound QB from Raymore, Mo., and Easters, a 6-3, 195-pound QB from Brownsburg, Ind., have shown a willingness to learn, according to senior Miles Kendrick. The veteran described the young duo as "relentless" in how they attack each day.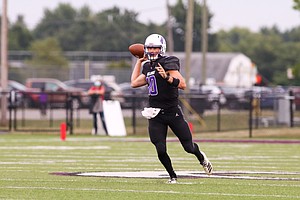 "Those guys, they have great energy, great attitude," Kendrick reported. "And they try to soak up as much information as they can each and every day."
Some of their leadership qualities have shown up in how they bring energy to practices, Kendrick shared, even if it's something as simple as giving a high five to a teammate after a successful play or rep.
The way Kendrick views it, the additions of Hawley and Easters have made for an improved QB room all together.
"We've been pushing each other," the senior said of the QBs. "We quiz each other on concepts. 'Hey, if this happens, then what? If they're bringing pressure on this look or this protection, what do we check in?' We're always testing each other, always holding each other accountable."
Although interim head coach Emmett Jones has made sure during media interviews not to reveal much about the QB competition or which player or players are creating some separation in the hunt for the starting job, he has complimented the QBs as a group for the advancement he sees during the team's closed spring practices.
Jones said the QBs are comprehending the offensive system being installed by offensive coordinator Mike DeBord, and with all the repetition, the throws that need to be made on certain play calls are getting closer to becoming second nature.
DeBord and interim QB coach Travis Partridge, Jones added, are helping the QBs make important steps.
"That ball is starting to come out quicker. They're confident. Their base looks good. When they take their drops, I can see those guys taking the appropriate progressions," Jones said.
The interim head coach said not only returning starters Daniels and Kendrick, but also the true freshmen are responding well to coaching. Jones said the QBs are looking down the field and making proper reads on passing plays, and understanding what's going on in the box defensively before snaps.
"All of those guys are making progress, so that's what it's about," said Jones, who also mentioned senior walk-on Miles Fallin and sophomore Torry Locklin while commending the play of the QBs.
Hawley and Easters in particular, Kendrick said, are clearly learning and processing it all successfully this spring.
"I think they're going to get better and better each and every day," Kendrick said. "And they're going to be talented guys."