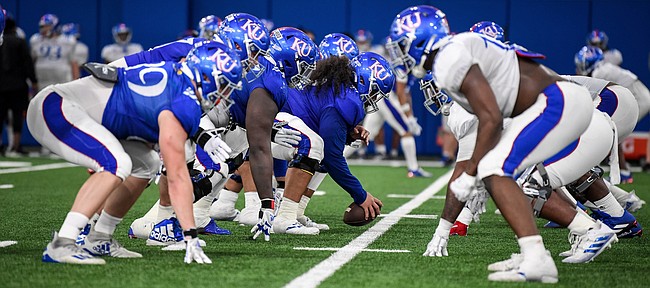 A couple of weeks into spring practices, some of the Kansas football team's more experienced players already are spotting promising traits and signs from their young teammates.
It's even happening on the offensive line, where age and size traditionally make for the most effective blockers.
Super-senior Chris Hughes, embarking on his sixth season in the program (Hughes redshirted in 2016 and utilized the NCAA's blanket waiver for an extra year of eligibility in 2021), brought up the "young bucks" of the O-line when speaking with reporters following KU's fourth practice on Thursday.
While Hughes, a 6-foot-4, 318-pound guard, appreciates many of the underclassman blockers in the group, he said the two true freshmen who already are on campus — De'Kedrick Sterns and Larson Workman — are impressing him.
"I'm loving the way those guys are taking direction, trying to be just as coachable as possible," Hughes said.
Sterns, listed at 6-4 and 272 pounds, and the 6-5, 265-pound Workman, as Hughes described them, are committing to the new challenges being presented and learning from O-line coach Lee Grimes without a hint of resistance.
"I love coachable players. I love coachable teammates. And that's what we're getting," Hughes said.
Sterns, graded a three-star prospect by Rivals, and Workman, a two-star lineman, are two of KU's seven Class of 2021 signees who graduated from high school early in order to join the Jayhawks for the spring.
Gilliom gaining attention at safety
Similarly, super-senior Ricky Thomas brought up a 2021 recruit when asked this week whether any freshmen or second-year players had stood out during KU's closed practices.
Thomas, a safety, shared his approval of a true freshman in his position group, Jayson Gilliom, a two-star signee.
"I like how he's catching on fast," Thomas said. "He's spent countless hours after practice, countless hours in the film room."
Gilliom, from Suwanee, Ga., is listed at 6-2 and 190 this spring, just months removed from the conclusion of his high school days.
"He has that want-to to him," Thomas said of Gilliom. "And he's flying around every single day, and he's getting better every day."
Bryant 'making plays' at corner
While the first thing that Kenny Logan Jr. mentioned about teammate Jacobee Bryant was that the freshman is "a funny guy," Logan thinks Bryant has some serious talent, too.
According to Logan, the first-year cornerback is a "high energy" contributor in KU's secondary who "flies around and makes plays."
Bryant actually signed with KU in 2020, but grayshirted and finally joined the Jayhawks this spring, making him one of the team's eight true freshmen on campus right now.
A three-star prospect from Evergreen, Ala., Bryant is listed at 6-0 and 170.
"He loves to compete," Logan said of Bryant. "So he's going to be huge for us this year."
Daniels connecting with several WRs
Some of the lesser known receivers for KU's offense have stood out of late to sophomore quarterback Jalon Daniels.
At Thursday's practice, Daniels said Kevin Terry, a junior transfer who previously was a walk-on at Texas Tech, made a key play.
"I was able to throw him a touchdown," Daniels shared. "He's been working hard, coming in learning a new offense, just like everybody else."
While Daniels said "all the receivers are working hard this whole entire spring ball," he also noted redshirt freshman Malik Johnson "has taken a big step up."
Additionally, the second-year QB said the following receivers stood out to him: sophomores Steven McBride and Tristan Golightly, and redshirt freshmen Lawrence Arnold and Quentin Skinner.