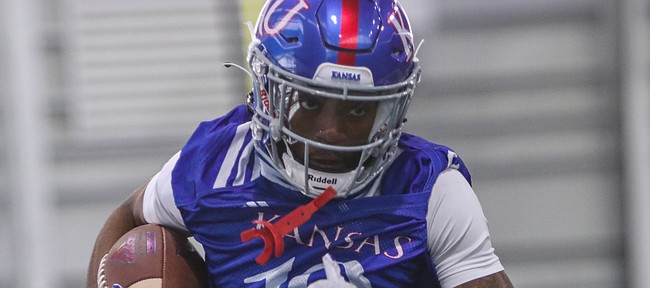 Whether it's Emmett Jones or someone else leading the Kansas football program when the season begins in September, the Jayhawks will be taking a youthful roster into their 2021 schedule.
Even counting the eight players who used the NCAA's blanket waiver for an extra year of eligibility, KU will have just 20 seniors on a team brimming with sophomores and freshmen.
As the Jayhawks go through spring practices, the underclassmen easily outnumber the veterans, and the disparity will only grow this summer, when the bulk of KU's 2021 signing class arrives on campus.
The roster is skewing particularly young because the coaching staff, once Les Miles was hired in late 2018, started putting a genuine emphasis on signing high school players — KU didn't have any junior college transfers in either their 2020 or 2021 classes.
Document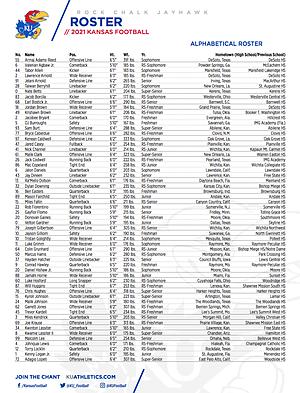 Now the Jayhawks are seeing the results of that shift. They have 24 sophomores on their roster, a whopping 24 redshirt freshmen and once the rest of the freshmen arrive before preseason camp they should have 22 true freshmen, as well (not counting new walk-ons that will be added).
There are some key contributors among KU's eldest players, such as super-seniors Kwamie Lassiter II, Chris Hughes and Kyron Johnson; seniors Earl Bostick Jr., Caleb Sampson and Malcolm Lee; and juniors Velton Gardner, Kenny Logan Jr., Colin Grunhard and Jacobi Lott.
But it would appear Year 1 of the latest version of the KU football rebuild will again involve a heavy reliance on young players.
In their 0-9 2020 season, the Jayhawks played 27 true freshmen and 11 of them started at least one game — Karon Prunty, Jalon Daniels, Daniel Hishaw Jr., Luke Grimm, Armaj Adams-Reed, Steven McBride and Taiwan Berryhill are sophomores this year; Lawrence Arnold, Bryce Cabeldue, Garrett Jones and Amauri Pesek-Hickson are redshirt freshmen.
Plus, the defense has some other sophomores who could play crucial roles in 2021, including Marcus Harris, Da'Jon Terry, Jereme Robinson, Duece Mayberry and Steven Parker.
Eight true freshmen — Ben Easters, Conrad Hawley, De'Kedrick Sterns, Larson Workman, Jacobee Bryant, OJ Burroughts, Jayson Gilliom and DeVonte Wilson — already are on campus and competing during spring practices, perhaps giving them a better chance to contribute immediately in the fall.
KU football 2021 roster
Super-seniors (8)
Offense
WR - Kwamie Lassiter II
OL - Chris Hughes
OL - Malik Clark
OL - Adagio Lopeti
Defense
OLB - Kyron Johnson
LB - Nate Betts
S - Ricky Thomas
NT - Sam Burt
---
---
Seniors (12)
Offense
QB - Miles Kendrick
OL - Earl Bostick Jr.
FB - Ben Miles
QB - Miles Fallin
RB - Gayflor Flomo
OL - Joseph Gilbertson
Defense
DL - Caleb Sampson
DE - Malcolm Lee
S - Takulve "TK" Williams
DL - Jelani Arnold
LB - Jay Dineen
OLB - Hayden Hatcher
---
---
Juniors (15)
Offense
RB - Velton Gardner
QB - Jason Bean (joining KU this summer)
OL - Colin Grunhard
OL - Jacobi Lott
TE - Mason Fairchild
WR - Jamahl Horne
OL - Nick Williams
FB - Spencer Roe
TE - Mac Copeland
RB - Rob Fiorentino
WR - Kevin Terry
Defense
S - Kenny Logan Jr.
LB - Gavin Potter
LB - Nick Channel
CB - Kwinton Lassiter
---
---
Sophomores (24)
Offense
QB - Jalon Daniels
WR - Luke Grimm
RB - Daniel Hishaw Jr.
OL- Armaj Adams-Reed
WR - Steven McBride
WR - Tristan Golightly
QB - Torry Locklin
QB - Jordan Preston
OL - Jack Werner
Defense
CB - Karon Prunty
DE - Marcus Harris
DT - Da'Jon Terry
DL - Jereme Robinson
CB - Duece Mayberry
OLB - Steven Parker
LB - Taiwan Berryhill
CB - Valerian Agbaw Jr.
DL - Kenean Caldwell
OLB - Dylan Downing
DL - Jack Stallard
Specialists
K - Jacob Borcila
K - Tabor Allen
P - Reis Vernon
LS - Luke Hosford
---
---
Redshirt freshmen (24)
Offense
WR - Lawrence Arnold
OL - Bryce Cabeldue
OL - Garrett Jones
RB - Amauri Pesek-Hickson
TE - Will Huggins
TE - Trevor Kardell
OL - Nicholas Martinez
DL - Caleb Taylor
WR - Malik Johnson
WR - Jordan Medley
WR - Kyler Pearson
OL - Jackson Satterwhite
WR - Jordan Brown
WR - Quentin Skinner
OL - Joe Krause
OL - Danny Robinson
FB - Jared Casey
RB - Jack Codwell
OL - Ronaldo Sigers
Defense
LB - Krishawn Brown
CB - Ra'Mello Dotson
OLB - Alonso Person
CB - Johnquai Lewis
S - Donovan Gaines
---
---
Freshmen enrolled this spring (8)
Offense
QB - Ben Easters
QB - Conrad Hawley
OL - De'Kedrick Sterns
OL - Larson Workman
Defense
CB - Jacobee Bryant
S - OJ Burroughs
S - Jayson Gilliom
CB - DeVonte Wilson
---
---
Class of 2021 signees who aren't enrolled yet (14)
Offense
RB - Devin Neal
OL - Corey Robinson II
WR - Majik Rector
WR - Kelan Robinson
TE - Mason Brotherton
WR - Tanaka Scott Jr.
Defense
CB - Cam'Ron Dabney
DL - Tommy Dunn Jr.
DL - Deldrick "D.J." Withers
S - James Wright
LB - D'Marion Alexander
LB - Trey Staley
LB - Andrew Simpson
S - Edwin White