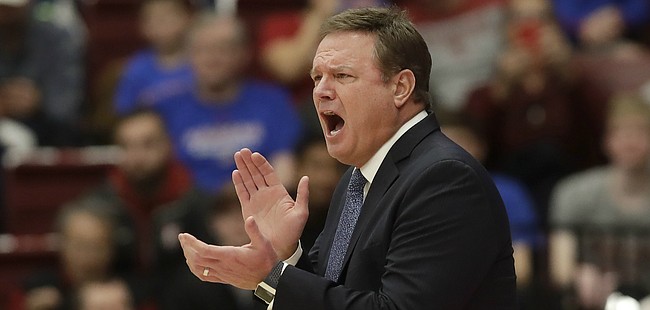 The head coach of the University of Kansas athletics department's flagship program, Bill Self, who has lived and worked in Lawrence for nearly 18 years now, considers the Jayhawks "fortunate" to have Travis Goff as the new athletic director.
KU's men's basketball coach, Self stated in a release that he spoke with Goff, a 2002 KU graduate, and came away thinking "it is clear he is exactly what we need."
An administrator in the Big Ten at Northwestern since 2012, Goff's reputation grew as he oversaw the football program, and played an important role in the department's facilities upgrades and fundraising as a deputy AD for development.
"He will be a tremendous partner," Self said, "to all of our head coaches and sports programs and will ensure that our student-athletes have a world-class experience during their time at KU."
Self described himself as "thrilled" to work with Goff and have the Kansas native back at KU.
Someone who knows Goff better than Self, Texas A & M Athletic Director Ross Bjork, also spoke highly of KU's new AD in a release. Both Bjork, 47, and Goff, 41, grew up in Dodge City.
"I have been fortunate to know Travis and his first-class family for more than 30 years, and it is so exciting to see him become the athletics director at Kansas," Bjork said. "As both of us have evolved in college athletics, we have become great friends. I have always known this day would come for Travis at the right time and the right place."
According to Bjork, also a former AD at Western Kentucky and Ole Miss, Goff has built a "sterling reputation" in the world of college athletics, prompting Bjork to label KU's hire a "home run."
"He represents a new era in leadership as we modernize the collegiate model," Bjork said. "I could not be more proud to call Travis a lifelong friend, and now fellow AD."