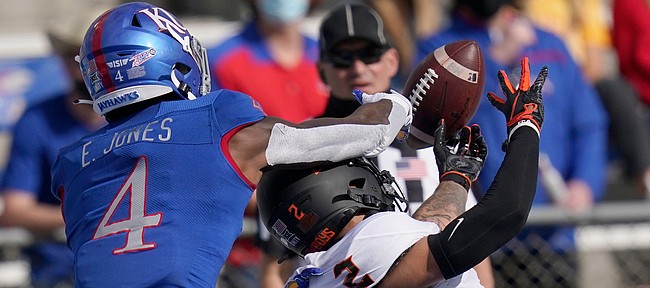 The next time a Kansas football player intercepts a pass or recovers an opponent's fumble it will mark the first time a Jayhawk creates a takeaway in 2020.
Three games into its pandemic shortened 10-game season, KU is the only FBS team to have played more than one game and recorded neither an interception nor a fumble recovery. Among the 76 teams that already have played, 73 have gained at least one turnover.
The complete lack of takeaways obviously hasn't gone unnoticed by second-year KU defensive coordinator D.J. Eliot. As the Jayhawks (0-3 overall, 0-2 Big 12) come off their second bye week, Eliot said finding ways to produce turnovers has been an emphasis.
"We've had our opportunities for some takeaways and we haven't finished," Eliot said. "So we need to finish."
Five Jayhawks have broken up a combined seven passes (freshman cornerback Karon Prunty leads the team with three). And sophomore safety Kenny Logan Jr. forced a fumble on a blitz and sack during KU's loss at Baylor. But between those opportunities and others, the Jayhawks, as Eliot put it, have yet to complete the task at hand when a takeaway situation presents itself.
"We've dropped three interceptions this season and we've had three (fumbles) that we didn't recover," Eliot pointed out.
It's a trend that dates back to last season. With just eight takeaways in 2019, the Jayhawks ranked tied for last in the category among 130 FBS teams.
KU's most recent fumble recovery didn't even come on defense. It was delivered in the clutch by a specialist, long snapper Logan Klusman, who in late October of 2019 secured a loose ball after a botched Texas Tech lateral, setting up the Jayhawks' only Big 12 victory.
Former KU safety Bryce Torneden is responsible for the program's most recent fumble recovery on defense. When Torneden pulled that off at Texas in 2019, in the seventh game of the season, it went down as the lone fumble recovery on the year by a KU defender.
Relatively speaking, the Jayhawks haven't gone as long without an interception, as safety Ricky Thomas secured one in the 2019 season finale against Baylor. Still, the Jayhawks only had six interceptions on the season (tied for 113th nationally) and two of those came against FCS opponent Indiana State in the opener.
"If they would have kept a stat on that I think we would have led the country in dropped interceptions," Eliot said. "And that's unfortunate."
KU has attempted to address this issue, Eliot said, throughout preseason and in-season practices.
"We do ball drills with our defensive backs and our linebackers on a daily basis," he said.
The coaches also have tried to improve their defensive players' hands, Eliot noted, by firing footballs at them with a JUGS machine, instead of having coaches and managers throw.
The defense worked on takeaways throughout the bye week, and Eliot said he hopes that makes a difference when the Jayhawks play Saturday at West Virginia (2-1, 1-1).
KU is 1-8 since the beginning of last season when it plays a game without registering any takeaways. The Jayhawks are 3-12 overall in that span, since Les Miles took over the program.