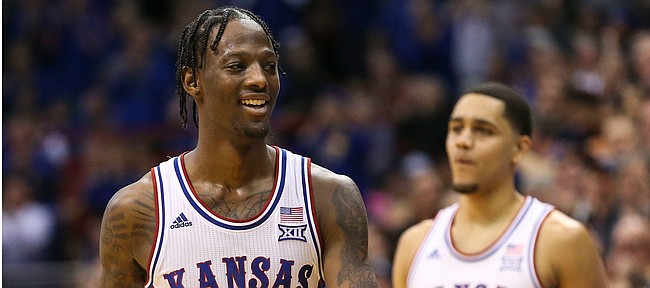 In the fall of 2017, after playing a supporting role for his first three seasons at Kansas, former KU point guard Devonte' Graham happily grabbed the reins as team leader in a very public celebration at Late Night that fit his personality and matched the adoration the fans had for him.
Fast-forward three years, to the start of senior guard Marcus Garrett's time to take the lead, and there was no such coronation.
Instead, Garrett's first official public act as KU's unquestioned leader came on a Thursday afternoon, in a mostly empty room on a Zoom call with reporters a couple of hours before the team's first practice.
However, like Graham's party three years ago, Thursday's scene fit Garrett's personality, too.
When asked what his primary duty would be as the team's leader this season, Garrett immediately pointed to the one stat that matters more than any of them.
"Overall, win games," he said. "Make sure everybody knows what they're doing, where they're supposed to be, and just win."
There are no statistics that show whether Garrett is ready for his new role, only 2,583 minutes, spread out over the past three seasons, that indicate he probably is.
During that time, Garrett has been asked by Kansas coach Bill Self to play all but one position, be on the floor during crunch time and guard the opposing team's best perimeter player.
Even as an underclassman, Garrett always carried himself like a veteran. Rarely sensing the need to be vocal when others in front of him, like Graham, Frank Mason III, Landen Lucas and others, were there to do it for him, Garrett often let his play speak for him.
As a freshman, he played critical minutes on KU's 2018 Final Four team. And during the past two seasons, his importance grew even while the outside world continued to look at his teammates as bigger pieces of the puzzle.
But Garrett never minded. The job to him was always the same. Show up. Play hard. Make life miserable for the guy you're guarding. And do whatever coach asks to the best of your ability.
That all-business approach is one of the things Self likes most about Garrett. And as much as the KU coach believes that his senior point guard was built for the role he currently has, that has not kept Self from pushing Garrett to execute it to perfection this season.
"To me, Marcus should make this his team," Self said Thursday. "But if he makes it his team, it's a responsibility that he owns; he's responsible for everybody else. And if he's not willing to do that then it's not really his team. That's a challenge that we've given Marcus, and I think he's accepted it and I think guys will follow (him)."
Garrett said Thursday that words like those, from his Hall of Fame head coach, get him pumped up and ready for the role. But he also noted that he was not planning on changing the way he conducts himself on the court or in the locker room, be it because of his new title or the COVID-19 craziness around him.
"It's definitely a big challenge, with everything just being different," he said. "But when we get on the court it's still basketball. So I just go out there and try to lead the best way I know how."