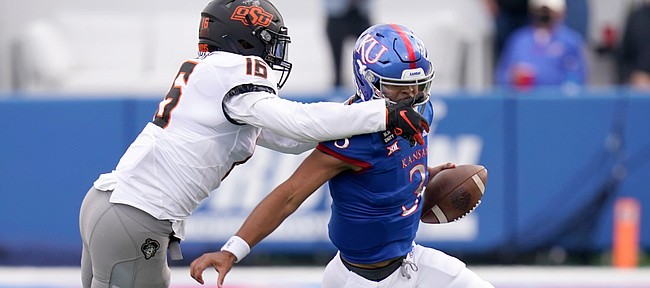 It was impossible to point a finger at just one side of the ball after the Kansas football program's second-most lopsided defeat since Les Miles took over.
The Jayhawks' 47-7 homecoming loss against Oklahoma State this past weekend wasn't only because of a dreadful day for the defense, of course. KU's offense also bottomed out as the team headed into its second bye week of the season 0-3 overall and 0-2 in the Big 12.
With neither rushing nor passing plays functioning with any consistency behind an offensive line that continues to encounter issues, KU produced only 193 yards of offense — the second-lowest total during Miles' 15 games as head coach and the worst output since Brent Dearmon became the offensive coordinator and quarterbacks coach at the midway point of the 2019 season.
While KU has yet to resolve its quarterback situation three games into a 10-game season, that and other offensive issues seem to be compounded by the inconsistent play along the O-line.
Miles goes out of his way in media sessions not to besmirch his players in any way. Such was the case when he was asked about the O-line's play following the OSU loss — the second-worst defeat during his time at KU, with a 61-6 Baylor rout in the 2019 season finale being the widest margin.
"I know that our line coach is busting his tail," Miles began, referencing the group's position coach, Luke Meadows. "I know that the kids that are playing for him are really good people and committed to being quality players."
On the offensive line, KU starts Malik Clark at left tackle, Jacobi Lott at left guard, Api Mane at center, Chris Hughes at right guard and Earl Bostick at right tackle. Reserve Adagio Lopeti also plays with some regularity.
Early this season, the group has run into problems in pass protection and the left edge in particular has been a place where opposing defenses tend to create issues.
"I saw (Meadows) speak to his group at halftime," Miles said. "I just believe that he'll make something out of that group, and that group is talented."
KU junior quarterback Miles Kendrick was sacked four times against the Cowboys. Kansas quarterbacks are being sacked, on average, five times a game — tied for the worst mark among all FBS teams.
Yet Kendrick after KU's third loss this season called the O-line "one of the hardest working groups" on the team.
Kendrick pointed to "great leadership" from Api Mane as one of the reasons he trusts the blockers can turn a corner.
"Those guys are going to keep working and keep getting better," Kendrick said. "I love those guys. I know they're going to get better each week."
It's a sentiment that echoed his head coach's words: "I'm betting that they get better as we go," Miles forecasted.
While no one in the program is throwing the O-linemen under the bus, the offense has underperformed through three games.
Not only are the Jayhawks averaging just 14.7 points an outing (ranked 71st nationally, out of the 74 teams that have played so far this season), but they're also gaining just 4.17 yards per play (72nd). KU is averaging 3.7 yards per rushing attempt (46th) and 4.8 yards on pass attempts (71st).
Following the loss to OSU, Kendrick said most of the offense's issues come down to execution.
"That's something we need to work on. We've got a bye," Kendrick said. "We're gonna work on ourselves and keep moving forward, and work on executing our plays and winning our one-on-one battles."
As KU attempts to recover from a blowout loss, Kendrick said all the players need to review the game footage and identify their own mistakes.
"Everybody has to look within themselves individually, see what we need to do," Kendrick said. "And every day we need to work on individually getting better."
On more than one occasion after the OSU loss, Kendrick said part of the bye week for the offense would also include finding an identity.
"What do we do well? And what can we take advantage of week to week?"