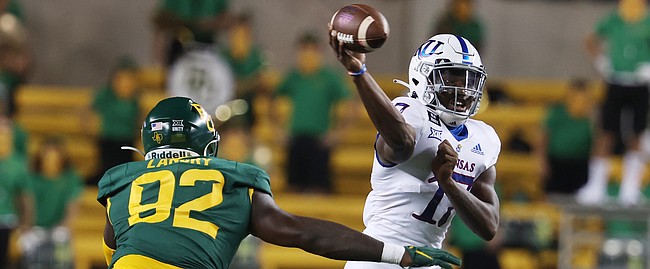 It sounds as if Kansas quarterback Jalon Daniels will likely be out longer than originally expected.
KU football head coach Les Miles said Wednesday night during his weekly radio show, "Hawk Talk," that the staff now expects "it might take (Daniels) a bit to get back."
Though Miles, per usual, kept his injury update vague, that was a different outlook than what the head coach presented on Monday morning. During the Big 12 coaches teleconference earlier in the week, Miles said it seemed "very likely" that both Daniels and senior quarterback Thomas MacVittie would be available to play for the Jayhawks following their bye week, when the team returns to action on Oct. 17 at West Virginia.
"We can't wait to get him back," Miles said of Daniels, adding the freshman QB who started the last two games for KU should be able to return to action at some point this season.
Daniels was only able to play the first four possessions in KU's homecoming loss to Oklahoma State this past weekend. He appeared to injure his left foot and returned to the sideline in the second half wearing a supportive boot.
Through KU's first three games, Daniels is 23-for-40 on his pass attempts, throwing for 174 yards, without a touchdown or interception.
MacVittie update
Miles said his hope would be that KU will have Miles Kendrick and MacVittie in the mix at QB for the WVU game, as well as walk-on Miles Fallin.
As he is with most personnel updates, though, Miles again proved indistinct on an exact timeline for MacVittie's return when it came up.
"He wants to be back in," Miles said of MacVittie, who hasn't played since the third quarter of KU's season-opening loss to Coastal Carolina, when he appeared to suffer a shoulder injury.
"He's pushing the envelope. He's healing," Miles went on. "He's a special young guy. He sees his future, wants to compete, has a nick that he's going to take care of."
The senior QB went 5-for-9 passing in the Jayhawks' 2020 debut, with 20 yards and one interception.
Key defenders should return
After senior defensive backs Ricky Thomas and Kyle Mayberry and sophomore linebacker Gavin Potter did not suit up for KU's loss to Oklahoma State, Miles said he's assuming they will be back available at WVU in a little more than a week.
"Yeah, I think we can (get them back)," Miles said. "And looking forward to having those guys back on our sideline."
Miles didn't provide an update on starting linebacker Dru Prox, who didn't play in KU's loss to OSU.