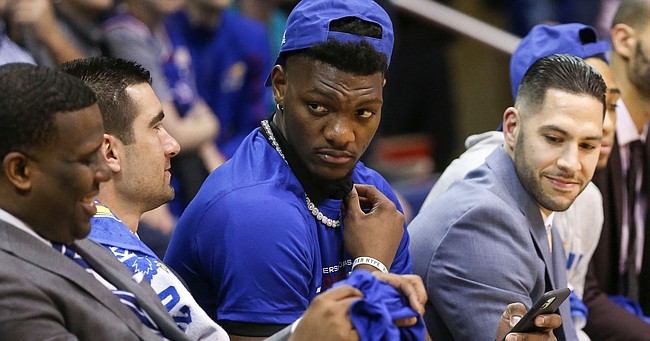 When the Jayhawks wrapped up boot camp 2020 on Tuesday morning, Kansas basketball strength and conditioning coach Ramsey Nijem was officially off and running for his second year with the program.
After being hired to replace Andrea Hudy in September of 2019, the start of last year's boot camp marked Nijem's first official day with the program.
In between the two conditioning sessions, Nijem received some glowing reviews from Kansas coach Bill Self.
"I thought he was great," Self told the Journal-World this summer, when asked about Nijem's impact during his first season with KU basketball. "He got done exactly what we intended him to get done and I thought the guys certainly showed some improvement, too, in their explosiveness and their strength also."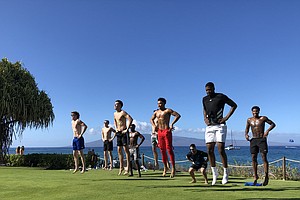 Nijem's energy, positivity and expertise all were received with great enthusiasm by the KU coaches and players. And Nijem's ability to relate to the Jayhawks played a significant role in him connecting with the team.
In addition, his past experience of working with some of the best players in the world while with the NBA's Sacramento Kings also caught their attention.
Self, who believed Nijem's NBA background would be extremely valuable at KU when he hired him, said he enjoyed the opportunity to watch Nijem use those past experiences with pros to teach KU's players.
"The biggest thing is just how knowledgeable he is about basketball, having played, but also (from) being around all those NBA practices," Self said. "He could share why we do what we do based on where they want to go and actually put them in those types of situations."
Self used a former Big 12 star and recent Kings starter as an example of the way Nijem communicated with his current players.
"This is something that (former Oklahoma star) Buddy Hield had to get better at before the coaches were going to have confidence in playing him," said Self, recalling one of Nijem's teaching moments. "And it was all tied back to strength development. He'd say stuff like, 'You think you're strong now, but what I'm telling you is you're not strong until you can do this.'"
While Nijem's degrees and years of academic and scientific study made the weight room his command center, Self said KU's newest staff member contributed to the program in other realms, as well.
In addition to instantly fitting in as a part of the team, Nijem was active on social media — interacting with both current and former players as well as using the platform to educate and inform — and demonstrated comfort in whatever environment he found himself existing.
"I thought he was really, really good in the weight room with them," Self noted. "But I also thought he was very good on the court. Not from a coaching standpoint, but from a (being) helpful and encouraging standpoint. And I then I thought he was really, really good in the locker room.
"I think he's good. I think he's probably as good as we ever could've gotten. He's been a pleasant addition to what we already had."