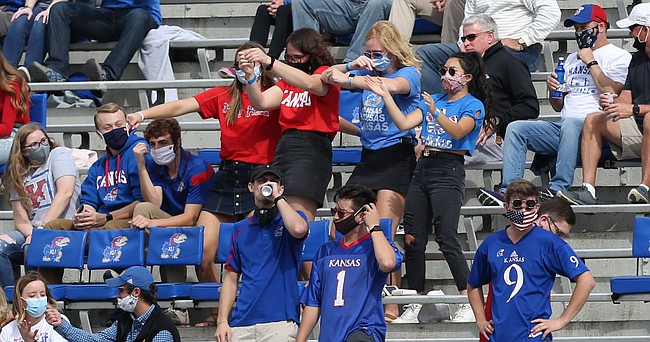 The jokes surfaced as soon as the University of Kansas athletic department announced that it would allow fans in the stands for Saturday's home football game against Oklahoma State.
"Will that count as a sellout for the Jayhawks," some asked.
"Do they ever even get 10,000 fans for regular games," others wondered.
Now we know.
With seats at a premium and David Booth Kansas Memorial Stadium dressed and ready for its first game with fans in the COVID-19 era, a little more than half as many fans as were allowed showed up for Saturday's 47-7 loss to the 17th-ranked Cowboys. At least half of those who did left at halftime with Kansas trailing 31-0.
The official attendance at Saturday's game was listed at 9,480.
According to a KU spokesperson, that was based on the number of tickets distributed to be in compliance with Douglas County's social distancing guidelines. It also was much larger than the number of fans that actually showed up.
The small, socially distanced groupings of blue seat-back cushions made it easier than ever to see who was and who wasn't willing to watch the Jayhawks fall to 0-3 on the season.
The question now begs how many are going to show up the rest of the way?
They came wearing jerseys and masks, presumably with smiles underneath them. It was a gorgeous fall afternoon. And even with the absence of tailgating and all of the other festivities that make KU's pregame atmosphere worth stomaching what routinely happens inside the stadium, it seemed like a great day for football.
"I think any reasonable person would have some concerns," said Jeff Rank, a season ticket holder from Elkhart, Ind., who made the 10-hour drive to watch the Jayhawks. "But I felt comfortable coming back. I like the fact that they're taking some precautions and the level of precautions made us feel comfortable."
"I was always coming," added KU freshman Rayce Robins, who watched KU's home opener from Campanile hill by himself. "I'm a huge fan. It's rock chalk all the time for me. I just love KU football."
What Rank, Robins and others like them saw on Saturday, though, was arguably as bad as it's ever been at the base of the hill.
Document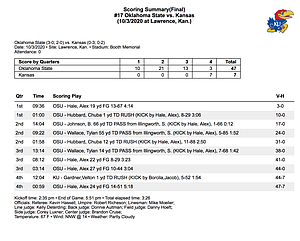 Most of the fans I talked to before the game began said they were thrilled to be back and would not have missed it for anything. Good for them. That's how you're supposed to support your team.
"We're glad they're playing and we're happy to be back watching," said season ticket holders Dennis and Denise, who declined to give their last name and made the drive over from Kansas City, Kan.
But I'm guessing those same fans, and countless others, would be equally as thrilled — if not more so — if KU officials announced today that they would not be allowed back for the rest of the season. At least then they wouldn't have to decide whether they wanted to spend their Saturdays this way.
Forget the fact that the Jayhawks were overmatched from start to finish. There's no real shame in that. After all, Oklahoma State was picked by some pundits to earn a spot in the College Football Playoff this season. And the Cowboys have won eight or more games 10 times since KU's last winning season.
Beyond that, KU was without a couple of starters in the secondary, which certainly showed.
After the game, deflated Kansas coach Les Miles called it "so painful" to watch the Kansas offense gain fewer than 3 yards per play when the defense desperately needed some help.
Coaches, including Miles, often talk about playing complementary football, and the Jayhawks have yet to find a way to do that this season. Never was that more clear than after three quarters on Saturday, when KU had given up 508 yards of offense and gained just 83.
The final yardage differential was slightly better, but not much. And it did nothing to erase the reality of those first three quarters.
Had it not been for the halftime unveiling of two statues to honor KU greats John Hadl and Gale Sayers, Saturday would have been a total loss.
Instead, it just goes down as another loss in a long line of forgettable games in front of a diminishing fan base.
They may have been glad to get in again. But that feeling probably did not last.