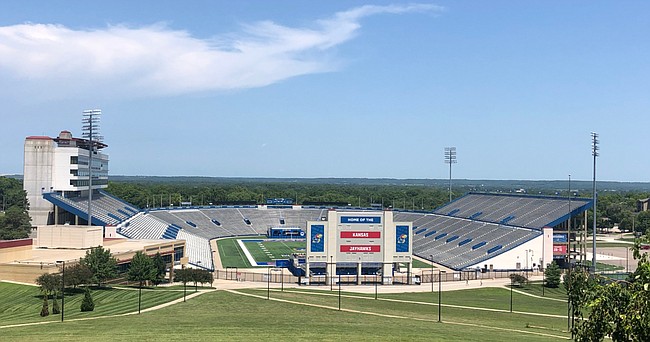 As a small crew in the bleachers behind him set up stadium chairs Thursday afternoon inside David Booth Kansas Memorial Stadium, University of Kansas Athletic Director Jeff Long made clear that the behavior of the fans who occupy those seats on Saturday will play a part in determining what attendance looks like for KU games moving forward.
"It's so key," Long said, "to the future of what we're allowed to do."
While speaking with reporters in the south end zone of the venue, Long went over some of the guidelines for the approximately 10,000 fans KU is allowing to attend the football team's homecoming game versus Oklahoma State. He said fans following the rules will enable the athletic department to keep welcoming them at not only football games, but also men's basketball games in the near future.
Long expressed optimism about fans being compliant.
"Our fans will follow (the rules) because they know how important it is. There's no guarantee," Long admitted, while adding KU will have staff members throughout the stadium reminding people of the rules.
Among the limited seats being occupied, Long said about 1,000 will go to KU students and roughly 9,000 will belong to season ticket holders, with seating arranged by their Williams Education Fund priority. Long said he thinks KU was able to accommodate all of its football season ticket holders who wanted to attend and noted some have chosen not to due to their concerns with the COVID-19 pandemic.
While he didn't get into the specifics of the athletic department's budget, Long said KU is experiencing "a little bit of a financial crisis right now," due to the pandemic. Selling even a limited number of tickets, he said, to football and men's basketball games will help, as the department has taken other measures — previously reported furloughs and salary cuts, for example — to plan for operating with far less revenue than in a normal academic year.
"There's no guarantee that we're going to get all these football games in, and we certainly don't know what the basketball season is going to look like in terms of seating in Allen Fieldhouse and the number of fans who will choose to come in an environment like that," Long said. "So we're concerned. But we're strategic in planning in advance of that to protect our program."
Briefly looking ahead to basketball season, Long said, just as KU did for football seating, the athletic department has gone over a number of different plans that are frequently revised.
"I would just say it's unknown," Long added of his outlook for fans in the fieldhouse. "We don't know the impact of what's coming in the winter months and we don't know the impact of when we're in a closed environment, not outdoors."
Similarly, while Long would like to gradually increase the number of fans who are allowed to attend football games and other fall sports events on campus, such as volleyball and soccer, he said the virus and how infection numbers look locally will determine whether that's possible.
After coaching the Jayhawks in a mostly vacant stadium on Sept. 12, Les Miles said earlier this week he "can't wait" to see 10,000 people in the stands on Saturday.
Here's a rundown of what will look different for those in attendance, as KU put in a number of measures to keep fans safe with the guidance of Douglas County health experts and medical professionals:
• Fans are required to wear masks at all times on campus, including when they are in their assigned seats. Fans must have their nose and mouth covered simultaneously and only remove their masks to eat or drink.
• All stadium seating will be reserved seating to make sure fans practice social distancing. Fans have to sit in their ticketed seat location.
• Tailgating won't be permitted on campus to prevent large gatherings. Law enforcement officers will monitor neighborhoods surrounding the stadium to help ensure no tailgating is going on.
• Tickets will be distributed via mobile delivery to limit contact points, and there will be contact-less entry through metal detectors for fans.
• In the days leading up to the game, all public areas on the concourse, as well as restrooms, suites and the press box will be disinfected by a third party cleaning vendor.
• Additional hand washing and sanitizer stations have been added through the concourses, suite levels and press box.
• Seating has been reconfigured in suites and the press box to account for social distancing.
• Shuttle buses will operate at a reduced capacity.
• Social distancing stickers are placed on the ground at all locations that may require a line, including concessions, restrooms, ticket office windows and metal detectors.
• Concession menus will be limited, and only cashless payment options will be accepted at concessions and Rally House setups.
• Plexi-glass barriers have been installed in various spots throughout the stadium.
• There will be no Hawk Walk, Fun Zone or Field Goal Club at the stadium until KU athletics returns to normal game day operations or additional safety measures are discovered.
• KU will not offer a bag check service for home football games in 2020.
• The capacity in elevators at the stadium will be reduced to five individuals or one group of ticket holders at a time.
KU maintains that people who fail to comply with the rules in place may be removed from the game and could lose the chance to purchase tickets in the future.
If there are many instances of people not wearing masks, Long was asked whether KU would go back to playing without fans.
"A lot of that will be dictated by the campus and the medical folks," Long said. "We hope we can provide a safe environment and we believe we can."