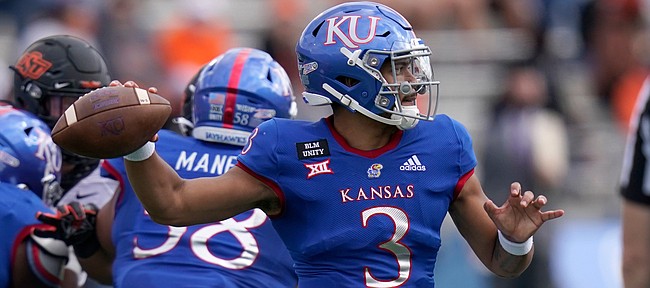 With only two games left to play, the winless Kansas football team might not necessarily have a quarterback controversy brewing, but head coach Les Miles hesitated Monday to completely endorse the incumbent.
True freshman QB Jalon Daniels, the starter in six of the previous seven games, sat during the entire second half of the Jayhawks' loss to TCU, as junior Miles Kendrick handled the job. Miles gave an update on the position during his weekly video press conference.
"I think this week will be a week of practice that we'll enjoy the competition between those two guys," the KU coach said.
Initially, Miles explained, the Jayhawks (0-8 overall, 0-7 Big 12) turned to Kendrick for the final offensive series of the second quarter as a "one drive scenario, just to see how Miles Kendrick looked," with KU trailing, 38-6.
With Daniels (4-for-13 passing, 57 yards, one touchdown) on the sideline, Kendrick came in to lead the Jayhawks to a quick touchdown with four consecutive completions.
"Obviously he drove the football and made plays. So that jolt was enjoyed, so we kept him there," Miles said.
Kendrick finished 11-for-18 passing, for 166 yards and two touchdowns, along with an interception that TCU returned for a TD and a lost fumble on which the Frogs scored another defensive TD.
Asked whether Kendrick did enough — his 166 passing yards were the second-highest total for a KU QB this year, behind Daniels' 207 at Kansas State — to garner consideration for the starting job, Miles said this week's practices will give the junior QB that opportunity.
Of course, Miles at times this season has intentionally taken a vague or deceptive approach when discussing the starting QB publicly, so as not to tip his hand to an opponent. So even if Miles and his staff prefer one QB over the other for the Texas Tech game on Saturday (11 a.m., FOX Sports 2), history has proven his press conference declarations aren't always reliable.
Another opt out
During KU football player interviews with media members on Monday, freshman offensive lineman Bryce Cabeldue mentioned one of his fellow blockers, Jacobi Lott, had opted out of the rest of the season.
KU confirmed that was the case for Lott, a 6-4, 320-pound sophomore from Amarillo, Texas.
Lott started at left guard in each of KU's first seven games of the season. Against TCU, senior Malik Clark moved back to left guard, a position where he started 11 games in 2019.
Lott became the fourth starter for KU to opt out during the season, joining running back Pooka Williams, linebacker Dru Prox and safety Davon Ferguson.
Some players in fall sports nationwide have taken advantage of special NCAA rules this year — introduced because of the COVID-19 pandemic — that allow them to opt out of the season, without losing their scholarship or a year of eligibility.
RB depth could be issue
KU's leading rusher, sophomore Velton Gardner, hasn't played since the Jayhawks' Oct. 31 home loss to Iowa State. And Miles said Monday he doesn't know whether Gardner will be able to return for KU's final two games of the year.
"We gave him an opportunity at practice the back end of this last week and he didn't look healthy," Miles said of Gardner, who has rushed for 325 yards and two touchdowns in six games. "Another week may make him look like a million bucks, so we hope that he takes the field."
However, when Miles was asked whether the running back position will continue to be manned almost exclusively by freshman Amauri Pesek-Hickson, who rushed for 100 yards in his first career start against TCU, Miles said he expected Pesek-Hickson, junior receiver Takulve "TK" Williams and junior back Gayflor Flomo to handle those duties.
Neither Gardner nor freshman Daniel Hishaw Jr. played versus TCU. Miles said Saturday after the game Hishaw's absence was "virus" related. On Monday, the coach said he thinks Hishaw will return after KU's game at Texas Tech.
Pesek-Hickson, a 6-foot, 228-pound back from Blue Valley North, averaged 4.5 yards per rush on his 22 carries during the first significant action of his college career.
MacVittie update
Senior QB Thomas MacVittie, who suffered a shoulder injury in KU's opener versus Coastal Carolina, played for the first time since then on Saturday against TCU.
Miles said the staff turned to MacVittie to run the wildcat packages once Hishaw became unavailable. The coach said MacVittie's shoulder was "probably not 100 percent" yet.
"I think he's back, pretty much," Miles replied, when asked about the QB's health. "But I think there's probably a catch in his shoulder mechanism."
Finale set
The Big 12 announced Monday times and TV channels for its final Saturday of the regular season, a slate that includes the makeup date for Kansas versus Texas.
Originally on the calendar for Nov. 21, the KU home game will kick off at 2:30 p.m. on Dec. 12, and air on ESPNU.
The Longhorns (5-3, 4-3) are scheduled to play at K-State on Saturday, before returning to the Sunflower State a week later for the finale in Lawrence.