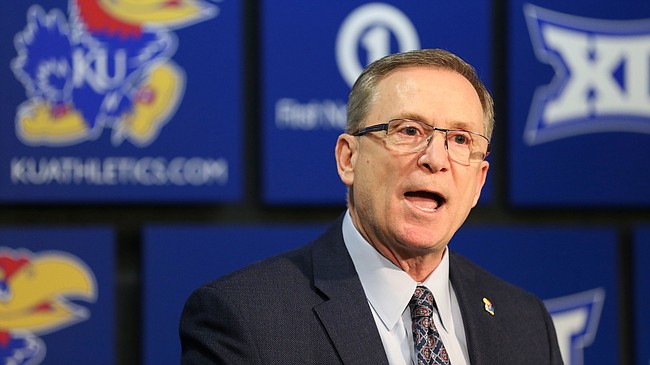 University of Kansas Athletic Director Jeff Long on Wednesday announced staffwide furloughs and pay cuts for all Kansas Athletics employees, including coaches, from June 1 through the end of 2020.

An email sent to KU's donors on Wednesday afternoon outlined four tiers of the department's cost-cutting plan, which is based on each employee's individual salary.
"We prolonged enacting measures that impact our people as long as we could," Long said in the email. "But it has become clear that the across-the-board reductions were necessary for the short- and long-term financial needs of this department."
Long added that the decision to join the reductions by KU coaches under contract was voluntary, adding that "they deserve a great amount of credit for contributing."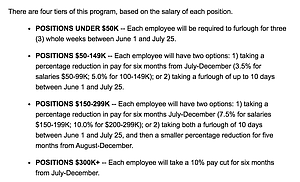 Two of the four tiers in the plan included staff options.
Those that didn't were for the highest and lowest paid Kansas Athletics employees.
Those making more than $300,000 per year are required to take a 10% pay cut for six months from July through December.
Those who make less than $50,000 per year will be furloughed for three full weeks from June 1 through July 25.
The employee options came in the middle two tiers, where those making between $50,000 and $299,000 annually were given the choice to take a percentage pay cut or furlough.
The first option was for those in the $50,000-$149,000 salary range. That group was given the choice of taking a 10-day furlough between June 1 and July 25 or a six-month pay cut of 3.5% for those making $50,000-$99,000 or a 5% pay cut for the $100,000-$149,000 range.
The second option, for employees making $150,000-$299,000, followed a similar structure, with qualifying staff members choosing between a six-month pay cut of 7.5% for salaries in the $150,000-$199,000 range or taking both a 10-day furlough between June 1 and July 25 and a smaller, undisclosed percentage pay cut for five months from August through December.
Similar steps have been taken at colleges and universities throughout the country in both athletics and the academic world.
The recent step taken by Kansas Athletics followed an announcement in late April that the KU athletic department's three highest paid employees, Long, men's basketball coach Bill Self and football coach Les Miles, were taking voluntary 10% pay cuts from May through October.
KU Chancellor Douglas Girod said at the time that the move by Long, Miles and Self would save the athletic department $500,000. Long said Wednesday that the latest move would produce a savings of an additional $650,000 through Dec. 31.
"We continue to explore all options across the landscape of Kansas Athletics to reduce the financial shortfalls in the upcoming fiscal year budget which begins July 1," Long said. "We are already anticipating a 10-20% shortfall due to lack of revenue, even if football and men's basketball seasons are played without interruption."