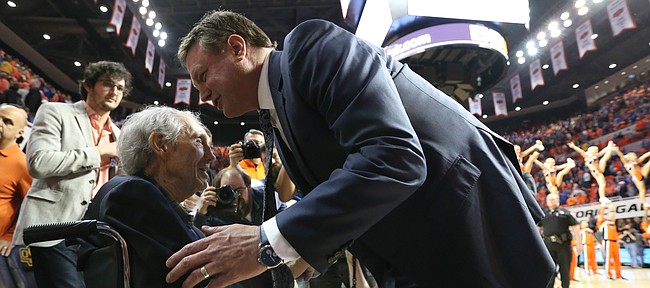 Kansas native and legendary college basketball coach Eddie Sutton died late Saturday night at age 84.
Sutton, who spent most of his 806-win career at Kentucky, Arkansas and Oklahoma State, was one of the key mentors, and like family, to current Kansas coach Bill Self.
In early April, the Naismith Memorial Basketball Hall of Fame announced that Sutton would be inducted with the 2020 class later this year.
Self, at the time, called it "an honor that is richly deserved, one that is long overdue."
"Coach Sutton was a great coach, a pillar in our profession, but he was a better person than he was a coach," Self said in a statement Sunday afternoon. "The impact he had on so many lives does not go unnoticed by those he's touched directly and indirectly. I'm very proud that I was able to spend some time with him and watch him totally galvanize a community at Oklahoma State. He will be missed."
Prior to his own induction into the Hall of Fame in 2017, Self talked briefly about Sutton's influence on him and what he learned during the three seasons he served as an Oklahoma State assistant (1990-93) and the relationship that emerged from their time together.
Self brought many of the lessons he learned during that time to his own programs at Oral Roberts, Tulsa, Illinois and, of course, Kansas.
"Coach Sutton, I think, tied in the on-the-court and off-the-court as well as anybody, and the family atmosphere," Self said in 2017.

Sutton's family said in a statement that he died of natural causes at home in the Tulsa, Okla., area, surrounded by his three sons and their families. Sutton's wife, Patsy, died in 2013.
"Dad and mom treated their players like family and always shared the belief that his teachings went beyond the basketball court," the family wrote. "He cherished the time he spent at every school and appreciated the support of their loyal fans. He believed they deserved so much credit in the success of his programs."
Born in Bucklin in 1936, Sutton played at Oklahoma State under Hall of Fame coach Henry Iba and stayed there to begin his coaching career as an assistant under Iba in 1958.
Sunday on Twitter, ESPN broadcaster Fran Fraschilla wrote that Sutton once told him he was recruited to play college basketball by four Hall of Famers — Phog Allen at Kansas, Tex Winter at Kansas State, Ralph Miller at Wichita State and Iba.
Sutton got his first Division I head coaching job at Creighton and led the Bluejays to an 82-50 mark from 1969-74. He took over at Arkansas in 1975 and led the Razorbacks to 260 wins in 11 seasons, including a nine-year stretch of 20-win seasons and nine consecutive trips to the NCAA Tournament before leaving for Kentucky.
At UK, Sutton went 88-39 in four seasons before winning 368 games in 16 seasons at OSU from 1990-2006.
The practice gym at Arkansas and the court at Oklahoma State are both named for him.
Sutton coached in three Final Fours (two at OSU and one at Arkansas) and was the first coach to lead four different programs to the NCAA Tournament.
Sutton is one of just nine coaches in NCAA history to eclipse the 800-win mark and he ranks ninth all-time in coaching victories, 98 wins ahead of Self.
Self and Sutton squared off a handful of times during their coaching careers. At Kansas, Self was 3-2 in head-to-head matchups with his mentor. And even after the 2005-06 season, Sutton's last at OSU, Self always tried to meet up with Sutton during KU's trips to Stillwater.
Sutton was in the crowd for KU's 65-50 win in January in Stillwater and Self came out of the locker room a little early to make sure he could say hello.
Not long before that, the two spent some quality time together at an Oklahoma Hall of Fame event in 2019.