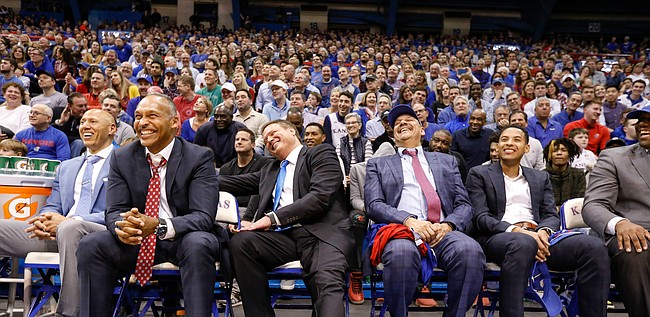 During the week that followed the cancellation of the 2020 NCAA Tournament, the debate about whether to hang a banner at Allen Fieldhouse raged on among Kansas basketball fans.
And, in a way, KU coach Bill Self was right there with them.
While Self, during a season-ending conference call with reporters earlier this week, did not come right out and say whether he thought KU should hang a banner for finishing as the No. 1 team in the country in nearly every meaningful ranking, the KU coach made it clear that finding some way to honor the 2019-20 team was weighing on his mind.
"There's a ton of things that need to be done short term and long term," Self said during the teleconference. "But the one thing that can't be forgotten is how do you memorialize (the season)?" That's something that has been talked about in the few staff meetings we've had since (the tournament was canceled) and that's got to be something key for us to do."
To date, no one has come up with an answer quite good enough for the Hall of Fame coach — including him.
"I don't know exactly how we do it," Self said. "I don't know if we just do it within our own fan base. I don't know if you do it through different podcasts or whatnot. But whatever we've come up with so far pales in comparison to (what) they actually deserve."
Winners of 17 of 18 Big 12 Conference games and all but three of 31 games total, the top-ranked Jayhawks capped the season with a 16-game winning streak that both brought the Big 12 trophy back to Lawrence and positioned Kansas to enter the NCAA Tournament as the No. 1 overall seed.
Per KenPom.com, KU ranked second nationally in adjusted defensive efficiency and eighth in adjusted offensive efficiency. Kansas was the only team in the country to finish in the top 10 in both categories.
Beyond that, KU delivered the kind of stingy performance that registered as one of the best defensive seasons by a college basketball team in the past couple of decades.
Led by Big 12 Defensive Player of the Year Marcus Garrett — who won the same honor from a couple of national outlets — the KU defense became the one thing this group could count on during good times and bad.
When the KU offense struggled, Garrett, Devon Dotson, Udoka Azubuike and Ochai Agbaji found a way to deliver on the defensive end.
When the KU offense was clicking, the Jayhawks absolutely crushed their opponents.
"How do you give credit to that effort and have it be recognized," Self asked recently. "You've got a couple of players, or three players, that will not be back. Two of them are seniors (Azubuike and Isaiah Moss). One of them (Dotson) I'm sure will declare (for the NBA draft) even though it hasn't happened yet."
In short, no matter how good Kansas is next season or in the years ahead, Self and his coaching staff will never again have this exact version of the team in the locker room or on the court.
From banners and rings to future celebrations and even special recognition inside the KU locker room or men's basketball offices, all ideas are on the table. And the only thing that Self truly cares about is that one of them, whatever it winds up being, seems fit to honor all of the things the 2019-20 team accomplished during the past five months.
"For this team to bring so much positive attention in a year in which we desperately needed positive attention, and to operate under pressure, operate with expectations and operate (with so many) distractions, I mean, this team deserves as much credit as any team I've ever coached," Self said. "To think that could kind of get lost is very disappointing. We've got to find a way to make sure that doesn't happen."