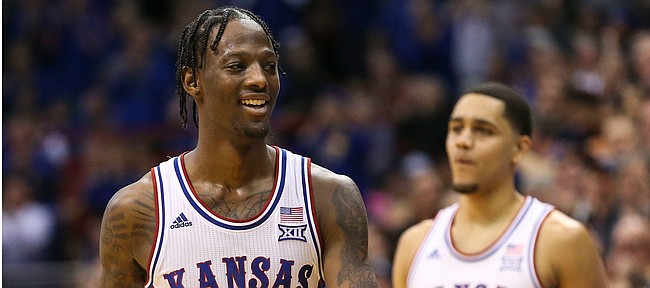 Looked to by many as one of the strongest leaders on the 2019-20 Kansas basketball team, junior guard Marcus Garrett recently shared some of his thoughts and emotions about the abrupt end to KU's season.
"It was a great season," Garrett said. "We had a lot of fun. We did great things – went undefeated on the road, won the Big 12 outright. I felt like we had chemistry kind of like no other."
At a time when the Jayhawks, and dozens of other teams across the country were supposed to be preparing for the bracket to be released and planning their path toward the first round of the NCAA Tournament, Garrett instead was in an empty Allen Fieldhouse recording a reflection video for KU's Twitter account.
In it, the Big 12's Defensive Player of the Year expressed his disappointment in the way the college basketball season ended, with the Big 12 and NCAA canceling the postseason because of concerns about the coronavirus.
The top-ranked Jayhawks ended the year at 28-3 overall after going 17-1 in Big 12 play, setting a record for most wins in a season by a Big 12 team. The fact that those marks came during a season that began with questions about the FBI investigation and included injuries and a brawl with rival K-State only seemed to make Garrett more proud of what his team had accomplished.
"We went through a lot of adversity," he said. "And it kind of made us lock in. Once we locked in, I felt like we were one of the most dominant teams in America."
That vibe led the Jayhawks to believe that the NCAA Tournament was theirs for the taking. By all accounts, KU was poised to enter the postseason as the No. 1 overall seed and as the top favorite to make it to the Final Four in Atlanta.
Instead, the run ended before it could even get started, bringing a close to a memorable season and to the careers of a few Jayhawks.
KU seniors Udoka Azubuike and Isaiah Moss are done. And sophomore point guard Devon Dotson also may have played his last game as a Jayhawk.
Azubuike and Dotson both expressed their sadness through social media posts in the days that followed the cancellations.
"I PROMISE you we were gonna do something really special," wrote Dotson, including an emoji of a broken heart with his message.
Added Azubuike: "Lord knows I'll miss putting on that uniform and representing this great university. So sad it ended the way it did. We were so close in accomplishing something special this season, but God knows best. Thank you all for a remarkable (season)."
"We just felt like it was there," Garrett said in the video. "We felt like it was our year; we could actually win it. And something popped up that was bigger than basketball. We knew it had to end just for everyone's safety."
Here's a quick list of some of the milestones the 2019-20 Kansas basketball team accomplished this season:
• Maui Invitational champs (beating Chaminade, BYU and Dayton)
• Win No. 700 for Bill Self in his career (Feb. 8 at TCU)
• Win No. 500 for Bill Self at Kansas (March 4 vs. TCU)
• Azubuike becomes NCAA's all-time field goal percentage leader while also shattering KU's school record (74.6%)
• Azubuike named Big 12 Player of the Year by the conference coaches and Associated Press
• Dotson named unanimous first-team All-Big 12 by the coaches and Associated Press and also a first-team All-American by Bleacher Report
• Azubuike joins the 1,000-point club (Feb. 24 vs. OSU)
• Garrett named Big 12 Defensive Player of the Year
• Christian Braun named to the Big 12's all-freshman team
• KU ranked in the top six all season and unanimous No. 1 in the AP and USA Today coaches polls entering the postseason