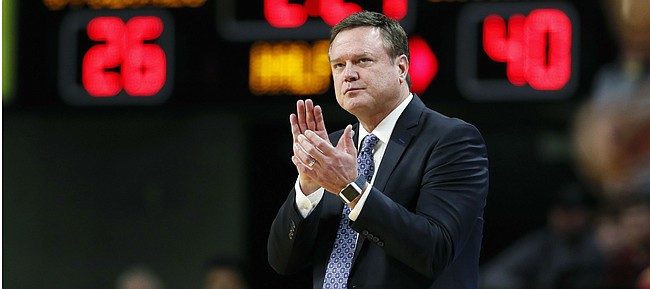 During a conference call with reporters Monday afternoon, Kansas coach Bill Self said from his home in Lawrence that his players believed they were "built" to make a run to a national title.
But Self also said anyone prepared to hand the Jayhawks any kind national championship hardware as a result should be prepared to place "a huge asterisk on both sides of it."
"This would be the one particular year that I'm all for it," the Kansas coach joked of being crowned champions without winning the NCAA Tournament. "But I don't even put any wishful thinking into that because that's not the way this is all intended to be."
Podcast episode
With the 2019-20 basketball season over far ahead of schedule, Kansas coach Bill Self discussed during a media teleconference on Monday afternoon the successful campaign that came to a strange end. Self provided an update on the team's players, as well as his thoughts on how the No. 1-ranked Jayhawks ...
Instead of actually winning the six games required to become national champs or hoisting the trophy on the final Monday night of the season, Self and the Jayhawks will have to settle for knowing that many others believed they were built for that type of run as well.
Postseason polls, social media posts and breakdowns of the season cut short by the coronavirus have been filled with people saying they thought Kansas was the best team in college basketball.
Some even went as far as to say the Jayhawks should hang a banner celebrating their 28-3 season. Self stopped short of that.
"This would be the year I would be all in favor (of it) because I think there would be a great chance we're No. 1 in all the rankings whenever they're turned in," he said. "But that's not the way it's drawn up. If it was done that way in the past, I certainly can understand why. Circumstances were different. And it was done in a way where it was determined to be done that way well in advance as opposed to being an afterthought because of a pandemic that no one has control over."
Asked why such a system could not work today the way it worked in college football for decades, Self pointed to the abrupt ending as too much of an obstacle.
"In football, they based it on the completion of the postseason as well," he said. "And this is incomplete."
Despite the unusual ending, Self said the past few days had been filled with positive reflection on a memorable season.
Given the way the season began, with the cloud of the FBI investigation hanging over the program, and with injuries and the brawl with Kansas State popping up as distractions along the way, Self said he thought the 2019-20 team "deserves as much credit as any team I've ever coached."
"I think this team was built on the things you have to have to win in March," Self said. "And that is toughness, handling pressure and dealing with distractions. … I think our players really believed that this was special. Now, that doesn't guarantee success. But I think we were as prepared as we could've possibly been going into the tournament (and) playing our best."
In the aftermath of the cancellation of the postseason, all but two Jayhawks — Udoka Azubuike and Silvio De Sousa — returned to their homes over the weekend, including freshman Tristan Enaruna, who hails from the Netherlands and was able to get back to his family safely.
Azubuike and De Sousa remained on KU's campus, and Self said the plan was for those two to stay there and the rest of the roster to hunker down at home until some kind of clarity emerged.
"We do not know what the return date will be," he said. "We're anticipating it being sometime in early April, but that is still unknown at this point in time."
As for the specifics of how the wild week that was in college basketball unfolded, Self said the handful of coaches he talked with last week were hopeful that the NCAA Tournament could be played at a later date.
"We weren't in favor of canceling; we were in favor of postponing," Self said. "But the reality is the only decision that could be made was made. And if it had been postponed instead of canceled, we would've still come to the same conclusion this Monday that we need to go ahead and cancel. It's just one of those unfortunate things that we have to be a part of, but the health of our country and society and the responsibilities of a citizen definitely take precedent over an NCAA Tournament."
Self revealed Monday that the Jayhawks, provided they were the No. 1 overall seed, would have played in the South regional, with Houston being the site of the Sweet 16 and Elite Eight matchups.
Self said the reason for picking Houston in the South over Indianapolis in the Midwest was simple.
"It was Friday/Sunday," he said. "When you have a team that's dealt with as many nagging injuries as we have, playing Friday/Sunday (in Omaha in Rounds 1 and 2) and turning around and playing Thursday/Saturday (in Indianapolis) didn't seem near as attractive. … With the practice schedules that we had, we had one player who, if we played on Sunday, he wouldn't have practiced again at the earliest until Wednesday. So that extra day, we thought, could be very beneficial to us."
Self mentioned senior center Udoka Azubuike and sophomore point guard Devon Dotson by name as the players the end of the season hit the hardest, before adding, "it hit everybody hard."
That included Self, who joked Monday that, with the season over, recruiting on hold, the basketball offices locked down for safety and sanitizing and his team spread out across the country, he would have to find something else to do with his time before the regular routine of running a college basketball program could resume.
"I've been told I'm going to clean out the garage and my closet," Self joked. "That'll take a couple of days right there. But I really don't know. It is unique. And there's a ton of stuff to do."
Included on that to-do list was making arrangements for summer camps, the postseason banquet, recruiting differently and taking care of the players already on the roster from an academic and emotional standpoint.
"You hope for the best, but you still prepare for the worst," Self said. "... There's a ton of things that need to transpire for us to get our program back to some normalcy, and I think that's enough to keep us busy."