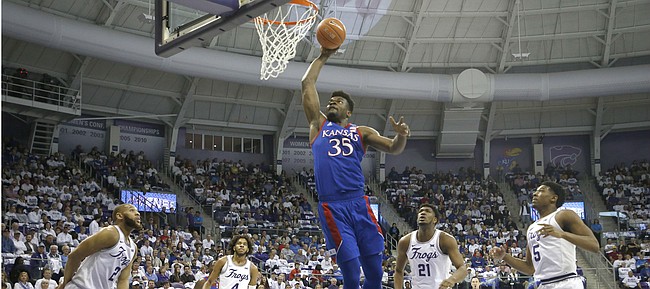 Make it two for two for Kansas senior Udoka Azubuike, who was named the Associated Press Big 12 Player of the Year on Tuesday.
And this one was close.
After earning the Big 12's top prize from the conference coaches on Sunday, Azubuike was named the Big 12's top player by a panel of media members on Tuesday, joining teammate Devon Dotson as the only unanimous picks for the all-Big 12 first team.
The two Jayhawks split all the votes for player of the year, with Azubuike receiving 10 votes and Dotson getting the other seven.
In talking about the first honor on Monday, Azubuike said getting the news from KU coach Bill Self was emotional. He added that he never would have been in position to record a Big 12-leading 15 double-doubles and average a double-double for the season (13.7 points, 10.5 rebounds) if not for the help of his teammates and coaches.
"It all comes down to my teammates and my coaches," the 7-foot center said. "They did an unbelievable job, and me winning (this award) wasn't just about me. It was also about them, too."
Added Dotson, who led the Big 12 in scoring at 18.1 points per game and also was a unanimous first-team selection by the coaches: "It means a lot. Just getting recognized (for) all the hard work you put in during the season. It's cool."
Azubuike and Dotson were joined on the AP first team by TCU's Desmond Bane, Baylor's Jared Butler and Oklahoma's Kristian Doolittle.
KU junior Marcus Garrett, a third-team pick by the conference's coaches, landed on the AP second team, which undoubtedly made Self, who was not allowed to vote for his own players, much happier.
"I thought Marcus deserved to be better than third team," Self said Monday.
AP FIRST TEAM
u-Udoka Azubuike, Kansas, Sr., 7-0, 270, Delta, Nigeria.
u-Devon Dotson, Kansas, So., 6-2, 185, Charlotte, North Carolina.
Desmond Bane, TCU, Sr., 6-6, 215, Richmond, Indiana.
Jared Butler, Baylor, So., 6-3, 190, Reserve, Louisiana.
Kristian Doolittle, Oklahoma, Sr., 6-7, 232, Edmond, Oklahoma.
AP SECOND TEAM
Marcus Garrett, Kansas, Jr., 6-5, 195, Dallas.
MaCio Teague, Baylor, Jr. 6-3, 195, Cincinnati.
Freddie Gillespie, Baylor, Sr., 6-9, 245, St. Paul, Minnesota.
Jahmi'us Ramsey, Texas Tech, Fr., 6-4, 195, Arlington, Texas.
Oscar Tshiebwe, West Virginia, Fr., 6-9, 258, Lubumbashi, Democratic Republic of the Congo.
Coach of the year — Scott Drew, Baylor.
Player of the year — Udoka Azubuike, Kansas.
Newcomer of the year — Jahmi'us Ramsey, Texas Tech.
AP All-Big 12 Voting Panel: Eric Bailey, Tulsa World; Abby Bitterman, The Oklahoman; Frank Bonner, Tulsa World; Tom Bragg, Charleston Gazette-Mail; Chuck Carlton, Dallas Morning News; Paul Catalina, ESPN Central Texas; Brian Davis, Austin American-Statesman; Drew Davison, Fort Worth Star-Telegram; Matt Galloway, Topeka Capital-Journal; Jimmy Gillispie, Stillwater News Press; Justin Jackson, The Dominion Post; Randy Peterson, Des Moines Register; Soren Petro, Sports Radio 810; Kellis Robinett, Wichita Eagle; Carlos Silva Jr., Lubbock Avalanche-Journal; Matt Tait, Lawrence Journal-World; John Werner, Waco Tribune-Herald.
What to play for?
Many bracketologist have Kansas projected not only as a No. 1 seed in the upcoming NCAA Tournament, but most likely as the overall No. 1 seed.
With that in mind, a couple of Jayhawks on Monday were asked what they had to play for in Kansas City at this week's Big 12 tournament. Their answers carried with them a theme.
"I think momentum," Self said. "You know, if you lace them up, you might as well win. Kids are competitive. I get a kick out of (people who say), 'Well, guys may not play as hard if you don't need it as much.' Well, if that's the case, then you probably don't have the guys you wish you had. So, in our case, I know we'll go over there and try. It doesn't mean we're going to play great, but I'd like to see us be jacked. I'd like to see us validate the regular season (title). But I also know that as soon as the last game is over, whenever that is, nobody will be talking about the Big 12 tournament and everybody will be focused on the NCAA Tournament."
Added Dotson: "We're going to take every game seriously and try to come out on top. Any time we're playing a game or a tournament, we're going to try to win."
Houston or Indy?
For the first time since its inception year, a new NCAA rule that allows the No. 1 overall seed to choose its path through the tournament could impact Kansas.
While Omaha, Neb., is the strong favorite to be where the Jayhawks' postseason run begins for Rounds 1 and 2, March 20 and 22, the path from there becomes a little less clear.
Houston (South) and Indianapolis (Midwest) are both regional sites this year, and both offer Kansas different advantages.
While Houston is a roughly 230 miles farther away from Lawrence than Indy, it also rests in Big 12 country and could be less likely to attract large crowds from other programs because of the Midwest regional's proximity to programs like Kentucky, Louisville, Creighton, Michigan State and Dayton.
Self said this week that several teams in the running for the No. 1 overall seed had to turn in their choice to the NCAA by last Friday. Kansas did that. But just because the selection is in does not mean Self is talking about it.
"I was told that every team that's in consideration for the tournament, or something to that extent, puts in their request," Self said Monday. "So all we did was do what everybody else in America has done. But we are obviously in a position where it could potentially happen. But we'll wait and talk about that if it does."
As for how much time he spent making up his mind between the two destinations?
"Quite a bit," Self said. "We all did, the administration and everybody talked about it. It's a hypothetical, obviously, but if we get a chance to talk about it then that means we'll probably have done fairly well this weekend."