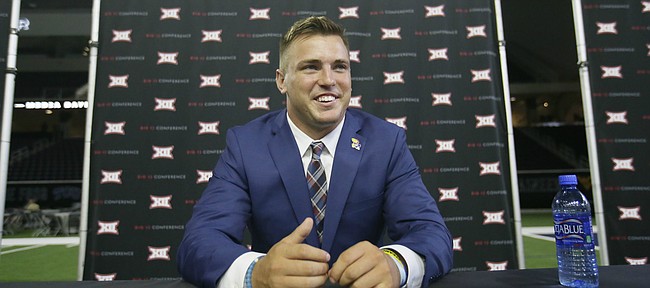 Former Kansas linebacker Joe Dineen Jr. has officially retired from football and has taken the first step in what he hopes will be a long and successful coaching career.
Dineen, who starred at Free State High before becoming one of the top linebackers in the Big 12 from 2015-18, announced Monday that he had accepted an offer as a graduate assistant at SMU.
Unsure of what exactly he will coach and when the job begins, Dineen said he was eager to jump feet-first into his coaching career.
"It was a tough decision," Dineen told the Journal-World on Monday afternoon. "But with how cool of a school SMU is, it was hard to turn down."
Former KU linebacker and assistant coach Kevin Kane, now the SMU defensive coordinator, helped sell Dineen on the GA job. And Dineen's instincts did the rest.
"I knew I wanted to stay around the game in some capacity," Dineen said. "And when coach Kane offered me this opportunity, it was too good of a deal to pass up."
Dineen, who was close to making the 53-man roster with the Denver Broncos during his rookie season in the NFL, said he went back and forth for about three months between trying to keep his playing career alive and joining the coaching ranks.
Ultimately, with the status of the 2020 NFL season uncertain, Dineen elected to call it a career.
In addition to the free agent deal with Denver in 2018, Dineen signed with the Jacksonville Jaguars in 2019 and was on the Jags' practice squad until the end of the 2019 season.
The end of his playing career inspired Dineen to reflect on all of the people who helped him along the way.
He thanked many of them in an Instagram post that featured nine photographs from his playing career.
"I really just want to thank everyone that had a part in developing me as a football player and as a person," Dineen wrote.
In addition to his friends and family, Dineen's list included former KU defensive lineman the late Keith Loneker, his little league coaches, former Free State coach Bob Lisher and former KU coaches Charlie Weis, David Beaty, Clint Bowen, Todd Bradford and Bill Miller.
He also thanked several members of KU's support staff — from academics to media relations and sports medicine — and his strength coaches at Kansas, Scott Holsopple, Je'Ney Jackson and Zac Woodfin.
At SMU, Dineen will be reconnected with a few other former Jayhawks.
Former KU quarterbacks coach Garrett Riley is Sonny Dykes' offensive coordinator. And former KU O-Line coach A.J. Ricker coaches SMU's offensive line. Former KU director of recruiting operations Tyler Olker also currently holds the same title at SMU.
"I'm fired up, man," Dineen said. "I think it was just time, and I'm really excited for this next chapter."
https://www.instagram.com/p/CA5ysB_pvL4/?utm_source=ig_web_button_share_sheet