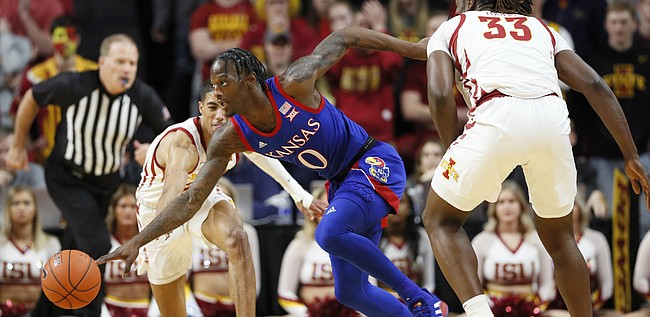 On Wednesday night at Hilton Coliseum in Ames, Iowa, the Iowa State Cyclones hit a 3-pointer for the 416th consecutive game, extending a streak that dates back to the 2007-08 season.
That was about the only offensive highlight for the Cyclones in a 79-53 loss to No. 3 Kansas, and head coach Steve Prohm knew it before he watched the film and before he even sat down at the lectern for his postgame press conference.
"They're an elite defensive team," Prohm said of Bill Self's Jayhawks, who improved to 12-2 with the runaway victory. "They're long at every position and (Devon) Dotson, athletically, is tremendous at the point."
Dotson, who recorded three steals on Wednesday night, now has three or more steals in six of KU's first 14 games this season (34 on the season), a feat that only a few KU guards have accomplished in the past couple of decades.
And while many of those steals have led directly to points, the reason for Prohm's willingness to call the Kansas defense "elite" goes well beyond one player or one statistic.
In fact, this Kansas team is on the verge of making history.
The 2019-20 Jayhawks have held their last five opponents to fewer than 60 points. If they're able to do that again on Saturday, when No. 4 Baylor comes to Allen Fieldhouse for a noon tipoff on CBS, this bunch will become just the second team in the Self era to hold six straight opponents to fewer than 60 points.
In order to find a similar streak, you have to go back to the 2012-13 season, when KU's defense was extremely stingy six times in a row, all in conference play, in wins over Texas Tech, Baylor, Texas, K-State, Oklahoma and West Virginia.
That same season, Kansas held opponents to fewer than 60 points in 20 of their 37 games. This team, which KenPom.com currently has ranked No. 2 in defensive efficiency, has done it eight times already and has 17 games remaining in the regular season.
For even more perspective, Self's program has held teams in the 50s or lower just 12 times in the last three seasons combined.
The 2012-13 Jayhawks benefited greatly from the presence of 7-foot shot-blocker extraordinaire Jeff Withey, who, through 14 games of the 2012-13 season, had recorded 71 blocks. This KU team, as a whole, currently sits at 60 blocks through its first 14 games.
While the current Jayhawks do not have anything quite like Withey protecting the paint, their defensive prowess usually extends to all five players on the floor.
That was particularly true Wednesday night, when KU was forced to play half of the victory without junior Marcus Garrett, who teammates call the "defensive coordinator." Garrett temporarily left the game in the first half with an ankle injury and did not play the final 10 minutes.
That allowed freshmen Tristan Enaruna and Christian Braun to shoulder more of the importance of keeping the Jayhawks' defense rolling.
"We didn't try to focus too much on him not being there," Enaruna said of Garrett, who Self said should be fine for Saturday's game vs. Baylor. "We just tried to continue doing what we do. Really, I just tried to be effective on defense because (Garrett is) a really big factor on our team defense. So that was what I was really trying to focus on."
Even when things weren't going well, the Jayhawks found a way to lock in defensively.
Throughout the first 10 minutes of Wednesday's victory, Self was less than pleased with the way his players had executed the defensive game plan. So instead of harping on it, he pulled back.
"We had a strategy on how to guard their ball screens and it didn't work," Self said. "(At that point it was) just load up and quit thinking about strategy. And I thought we did a good job."
Despite their current hot streak, in which Kansas has limited opponents to 36.2% shooting from the floor and 29.8% shooting from 3-point range during the past five games while giving up an average of 0.86 points per possession on the season — only Dayton (1.08) has topped the 1-point mark in that category — the KU coaches and players all believe they can do more.
"I think we have a pretty good chance to be better," junior forward Silvio De Sousa said. "We're just learning every day. That's one thing we focus on every single day — getting better on defense."
The past 33 years of KU basketball history are filled with two- and three-game streaks of the KU defense holding opponents in the 50s or lower. But reaching the point where they sit today is rare and sets this group apart from some pretty successful Kansas teams of the past.
Here's a quick look at some notable defensive stretches from recent KU teams:
• The 2007-08 national championship team, which Self always seems to mention when talking about his best defensive teams at KU, came close to matching what this squad is closing in on.
That team ripped off a stretch of six consecutive games in which their opponent scored 60 or less, but two of those foes hit 60 on the nose.
The best run the 2008 title team had of holding opponents under 60 was two three-game stretches, one coming early in the season during nonconference play and the other toward the end of the Big 12 schedule.
• The 1988 national championship team's best such streak was two games, but they came at the most critical time. Larry Brown's squad held Kansas State to 59 in the Elite Eight in 1988 and Duke to 58 in the Final Four one game later.
In fact, the Jayhawks held their opponents to fewer than 60 points in four of their six NCAA Tournament games that season.
• The 2010-11 NCAA Tournament team that lost to VCU did it for three consecutive games in the NCAA Tournament before bowing out in the Elite Eight.
• What about former KU coach Roy Williams' best? That was a five-game stretch that spanned the entire Big Eight tournament and first two games of the NCAA Tournament during the 1995-96 season.
Williams' teams also produced two four-game stretches of holding opponents to fewer than 60 points during his 15 years at Kansas, one at the end of nonconference play and the beginning of the Big 12 slate during the 2002-03 national runner-up season and the other spanning the final game of the regular season and three games in the Big 12 tournament during the 1998-99 season.