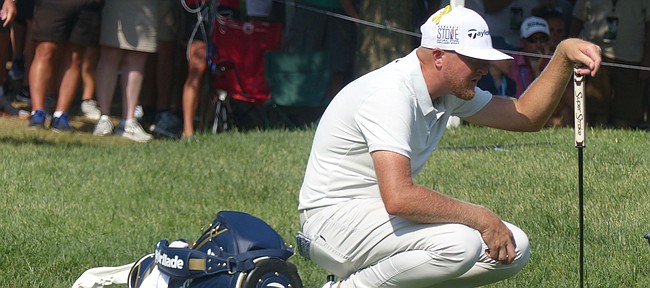 For the second year in a row, former University of Kansas All-American golfer Ryan Vermeer has been named a PGA Professionals Player of the Year.
Vermeer, the PGA Director of Instruction at Happy Hollow Club in Omaha, Neb., won his second consecutive national award during a season in which he won his third Nebraska PGA Section Championship, setting the 54-hole scoring record in the process.
Vermeer, 41, also finished tied for eighth at the PGA Professional Championship and tied for 80th at the PGA Championship. His 2019 season also included a third consecutive Nebraska PGA Player of the Year award and a 69th-place finish at the PGA Tour's Corales Puntacana Resort & Club Championship in the Dominican Republic.
The former Jayhawk, who has been seen at a couple of KU basketball games this season, told PGA.com that his 2019 season had special "bookends," as he won the TaylorMade Golf National Championship in March at Pebble Beach and helped the United States recapture the PGA Cup in September in Austin, Texas.
"It's been another awesome year on the golf course," Vermeer told PGA.com. "My game held up pretty well considering I was playing in some high-level competition. To be able to come back and win an award like this – once is incredible – but to win a second year in a row is something that not many have been able to do. I am extremely proud and honored to be able to do it."
Vermeer and fellow 2019 PGA Professional Player of the Year honorees Bob Sowards, of Dublin, Ohio, and Joanna Coe, of Lutherville-Timonium, Md., will be honored on April 24, in conjunction with the 53rd PGA Professional Championship at Omni Barton Creek Resort & Spa in Austin.