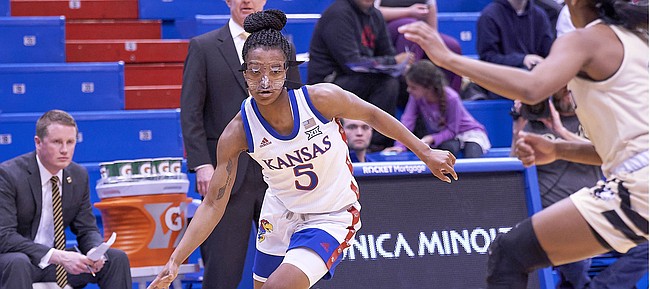 Despite a back-and-forth first three quarters, Kansas women's basketball dropped its Big 12 home opener against No. 19 West Virginia 68-49 Wednesday night.
Even though KU was down a player with junior forward Tina Stephens out, KU coach Brandon Schneider is proud of the Jayhawks' effort against a Big 12 title contender.
""They're ranked 19, whatever. That's a top-15 team," Schneider said. "We shoot 23% and we're in the game for three quarters. I hope as we look back at the film, there's going to be some positives that we can draw from that."
Though the final score may be misleading, opportunities were there to snatch a win against a ranked opponent, especially in the first half. But the Jayhawks spent much of the first half just trying to stay afloat.
Granted, neither team started out on the right foot offensively. West Virginia took an early 4-0 lead, but those points didn't come until nearly three minutes into the game. Both teams felt sped up out of the gate, and in a way needed the first media timeout to calm everybody down.
Eventually, both the Jayhawks and Mountaineers settled in and the first quarter ended on a stronger note. KU woke up after Schneider subbed senior forward Mariane de Carvalho for sophomore guard Brooklyn Mitchell midway through the quarter.

Mitchell shortly went back in, and that switch and short conference on the bench seemed to flip a switch for KU, as the Jayhawks finished the quarter on a 10-2 run to take a 16-11 lead.
But West Virginia also woke up, as the Mountaineers went on a run of their own, jumping back out to a 21-18 lead in the second quarter.
Document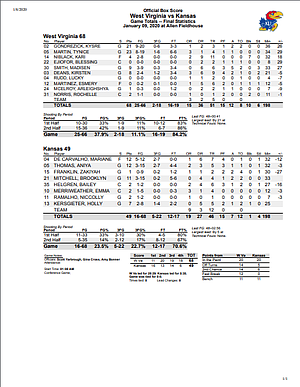 However, there were still chances for KU as the lead never grew to an insurmountable advantage for West Virginia. The Mountaineers went on a three-plus minute scoring drought and missed shots. But when the Jayhawks are late on defensive rotations and miss transition layups, it's difficult to mount a comeback.
"We've got good enough players that they expect to finish those plays," Schneider said.

Schneider added that his team also didn't have that "next play mentality" throughout the game.
"And you know, that's a battle that you fight with all young players," Schneider said. "That's just something that comes through growth, maturity and mental toughness."
To their credit, the Jayhawks still managed to close the gap heading into halftime. Redshirt sophomore center Emma Merriweather hit a contested layup and sophomore guard Aniya Thomas nailed a 3-pointer at the buzzer to cut the lead to 31-29 at the break.
But KU went cold in the third quarter. The Jayhawks initially traded baskets with the Mountaineers, but quickly the shots stopped falling for KU. The Jayhawks were 4-of-18 from the floor in the third quarter.
After a 7-0 run from West Virginia, KU responded once again as Thomas hit another 3-pointer to cut the lead to 43-40. But the Mountaineers still didn't budge or lose that lead, ending the third quarter with a 50-43 advantage after a floater went in at the buzzer from guard Madisen Smith.
Eventually the Mountaineers proved to be too much as West Virginia extended the lead to 13 points midway through the fourth quarter. This forced a KU timeout and also signaled the end of any comeback hopes for the Jayhawks.
"I thought mentally we played dejected (in the fourth quarter)," Schneider said. "I don't think we sustained the energy. They got offensive rebounds, transition points and I think that's where having a little bit more depth was definitely a plus in their (favor)."
Looking ahead, Schneider does see that as a learning experience for his young team and a chance to take a "hard look" at what went right in the first three quarters.
"I think that as individuals and as a team, very quickly we have to improve our ability to move on to the next play," Schneider said. "You miss a layup, it happens. You cannot allow that to affect how you perform on the next play, or you're going to have a four to five point swing just like that."
KU next faces TCU on the road on Sunday. Tip-off is at 2 p.m.