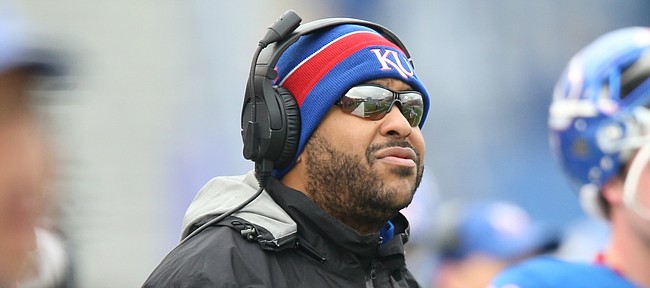 After sticking around for one year as the Kansas football program transitioned from one coaching regime to another, running backs coach Tony Hull is leaving the team.
Hull, a four-year KU assistant who helped the program land a number of talented recruits from his home state of Louisiana, announced his move Thursday afternoon, with a lengthy message attached to a tweet.
"I would like to take this time to thank Rock Chalk nation — you welcomed me and the boys from Louisiana with open arms," Hull began.
A source told the Journal-World that Hull is expected to join the coaching staff at Hawaii. He was under contract with KU through the end of this month.
Originally hired by former KU head coach David Beaty in 2016, Hull played a primary role in the Jayhawks establishing a recruiting pipeline of sorts to his native New Orleans and the surrounding area.
With Hull's connections and reputation in the area, KU successfully brought in players from Louisiana such as Mike Lee, Daylon Charlot, Malik Clark, Pooka Williams Jr., Corione Harris and Takulve Williams.
The departing assistant made a point to thank his "entire Louisianimal family" in Lawrence on his way out.
"You guys are my world," Hull's note read, "and we will forever be family. All of your support throughout this process means a lot to me."
In Hull's departing letter, he thanked Beaty, as well as current KU coach Les Miles, who kept him around after taking over the program in November of 2018.
Hull also shared his appreciation for the running backs he coached at KU, calling them a part of his family and thanking them for "allowing me to develop you on and off of the field."
Hull is leaving behind a running back group that currently includes KU's star offensive player, Pooka Williams Jr., Velton Gardner, Torry Locklin and Amauri Pesek-Hickson.
"I'm excited about the new opportunity that GOD has blessed me with," Hull wrote to wrap up his Twitter letter to the KU faithful. "Once a Jayhawk, always a Jayhawk! ROCK CHALK!"
With Hull moving on, Miles has now lost four position coaches from his first KU staff during the offseason.
Tight ends coach and recruiting coordinator Jeff Hecklinski left to become the offensive coordinator at San Diego State, reuniting with head coach Brady Hoke, whom Hecklinski spent several seasons with previously at Michigan, SDSU and Ball State.
Longtime KU assistant Clint Bowen, like Hull, a holdover from the Beaty era, took a defensive coordinator position at North Texas. The Mean Green also hired Mike Ekeler, who spent 2019 as the inside linebackers coach and special teams coordinator at KU.
Miles promoted from within to fill two of the vacancies, naming former senior offensive analyst Joshua Eargle the replacement for Hecklinski and moving Chidera Uzo-Diribe from a defensive quality control position to outside linebackers coach.
To replace Bowen as the safeties coach, Miles turned to former New Mexico defensive coordinator Jordan Peterson.
Additionally, KU switched strength coaches this offseason, with Zac Woodfin leaving for Missouri. Miles hired a onetime LSU colleague of his, Ben Iannacchione, as the new director of sports performance.
Hull was a successful high school coach in New Orleans, at Warren Easton, before landing his first college job at KU.
An offensive lineman at UL Lafayette in his playing days, Hull went on to become an engineer and spent three years working at NASA before embarking on his coaching career.