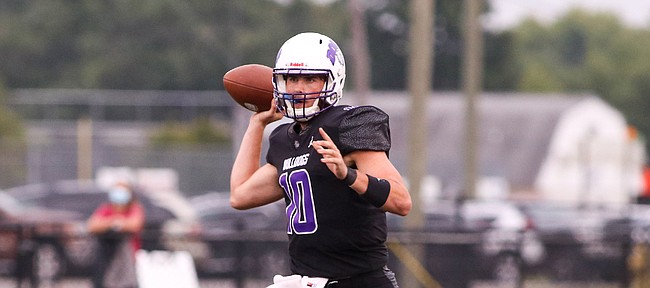 At a struggling football program such as Kansas, the coaching staff is almost always searching for a No. 1 quarterback. Before the 2021 season kicks off months from now, Les Miles and his assistants figure to get a long look at incoming freshman QB Ben Easters.
The first player KU announced this week in its latest signing class, Easters committed to Miles and the Jayhawks back in August of 2019. And in just a few weeks one of the initial members of the recruiting class will be one of the first freshmen on campus, enrolling for the spring semester.
"I'm coming early to KU," Easters said in a message to the Journal-World, "to get adjusted to college life and balancing my time between school and football before we get into next season."
One of the 20 prospects KU signed earlier this week, Easters is coming off a senior year at Brownsburg High (Ind.) in which the three-star QB helped the Bulldogs go 8-2. Easters went 125-for-218 (57.3%) passing, for 1,842 yards, with 13 touchdowns and 12 interceptions.
Meanwhile in Lawrence during the past few months, the Jayhawks (0-9 overall, 0-8 Big 12) started three different quarterbacks in Miles' second season. The two QBs who ended up playing the most in 2020 for KU were true freshman Jalon Daniels and junior Miles Kendrick. Daniels completed 50% of his 152 throws, for 718 yards, with one touchdown and four interceptions. Kendrick connected on 60.8% of his 120 passes, for 647 yards, with six TDs and five picks.
Given the lack of success for the offense this year and the general uncertainty surrounding the QB position, Miles was asked this week whether he expected Easters to come in and immediately compete for the starting job.
"In any event, he's going to get the opportunity to be looked at," Miles said. "We'll look at him and figure his abilities to play, period. But also we're going to give him plenty of time, because he's a talented guy. We'll play it by ear. If he's ready to go right away, then certainly we'll not be void of that opinion. But if he's going to take some time, that's fine, too. We just want him to develop."
The incoming freshman QB is listed at 6-foot-3 and 195 pounds. Easters' new position coach, KU offensive coordinator Brent Dearmon, said earlier this week during a signing special on ESPN+ that he likes Easters' poise.
Dearmon said Easters has proven in his games for Brownsburg that he can relocate in the pocket and step into a throw, even when he knows a defender is milliseconds away from delivering a powerful hit.
"That's that kid that you want to take with you on Thursday nights in the offseason to the bar fight with you right there," Dearmon joked. "He knows when pressure's around. He can feel the pocket. He can get it out just in time. And he knows the big play on the end of that throw is well worth that hit he took. That says a lot about him."
Easters is considered a pro style QB by recruiting analysts, but Dearmon thinks the newest KU QB can run or escape when he needs to — Easters rushed 30 times for 98 yards with two touchdowns in his senior year.
"Ben can move a little bit," Dearmon said. "I don't think he's as fast as Jalon. But he gives us another weapon in that room where he can use his legs."
At times this past season, Dearmon pointed out, Easters also ran the zone read plays that KU implements. Dearmon noted on one of Easters' senior year highlights the QB got outside and ran by a defensive back for a big gain.
"So that's not the staple of his game, but it's nice to have a QB who can extend plays like this," Dearmon said, "and go make big plays with his legs."
The COVID-19 pandemic wiped out the entirety of KU's spring practice schedule in 2020. But if all goes according to plan in the next few months, Easters and five other KU Class of 2021 signees — safeties Omar "O.J." Burroughs and Jayson Gilliom, offensive tackles De'Kedrick Sterns and Larson Workman, and cornerback DeVonte Wilson — will get a head start on their college careers as early enrollees, going through strength and conditioning at KU, as well as 15 spring practices.
The hope for Easters is that getting to KU in January will help him fast track the next stage of his football career.
"I also want to learn the playbook and be able to compete for a spot as early as I can," Easters said.
KU football Class of 2021 December signees
(Rivals rankings)
√ Ben Easters — 3-star Indiana prep QB; 6-3, 195
√ Omar "O.J." Burroughs — 3-star Florida prep S; 5-10, 167
√ Cam'Ron Dabney — 3-star Georgia prep CB; 5-10, 175
√ Corey Robinson II — 3-star Georgia prep OL; 6-5, 270
√ Majik Rector — 3-star Texas prep WR; 5-9, 152
√ DeVonte Wilson — 3-star Florida prep CB; 6-3, 192
√ Kelan Robinson — 3-star Texas prep WR; 6-2, 183
√ Tommy Dunn Jr. — 3-star Texas prep DL; 6-3, 277
√ Deldrick "D.J." Withers — 2-star Arkansas prep DL; 6-4, 245
√ James Wright — 3-star South Carolina prep S; 6-1, 195
√ D'Marion Alexander — 3-star Texas prep LB; 6-5, 215
√ Trey Staley — 3-star Georgia prep LB; 6-2, 200
√ Mason Brotherton — 3-star Arkansas prep TE; 6-4, 242
√ Devin Neal — 3-star Lawrence prep RB; 5-11, 208
√ Jayson Gilliom — 2-star Georgia prep S; 6-2, 190
√ Andrew Simpson — 3-star California prep LB; 6-1, 220
√ De'Kedrick Sterns — 3-star Texas prep OT; 6-4, 272
√ Larson Workman — 2-star Texas prep OT; 6-5, 270
√ Tanaka Scott Jr. — 3-star Alabama prep WR; 6-4, 192
√ Edwin White — 3-star Alabama prep S; 6-0, 196
Unsigned KU football Class of 2021 recruits
• Kameron Grays — 3-star Alabama prep DB
• Garfield Lawrence — 3-star Texas prep DE