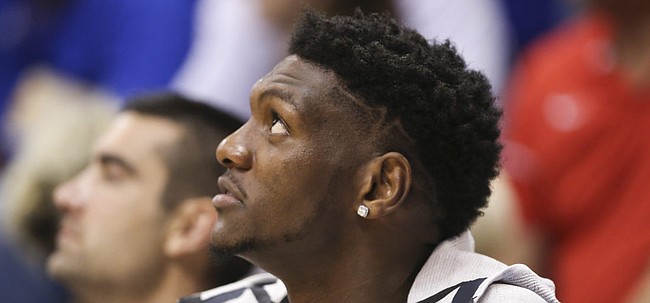 Former University of Kansas basketball player Silvio De Sousa was formally charged with aggravated battery during a brief first appearance in court Friday.
De Sousa appeared with counsel Hatem Chahine on a summons for the midlevel-severity felony.
The probable cause affidavit supporting the charge alleges that De Sousa struck a man who told him to "shut the (expletive) up" around 2:30 a.m. on Jan. 1 outside Brother's Bar and Grill, 1105 Massachusetts St. Despite multiple surgeries, the man lost vision in one eye after the altercation, according to the affidavit.
De Sousa, speaking with police on Oct. 15, reportedly said that while he and his friends were waiting for an Uber ride outside the bar, a man had become "verbally abusive" to one of De Sousa's friends.
De Sousa reportedly said he had "swatted" at the man but missed him the first time, then did it again and struck him in his cheek. He told the detectives that the man did not fall when he was struck and that when he left the man wasn't bleeding, according to the affidavit.
Detectives told De Sousa that other witnesses' accounts contradicted his statement; he said nothing further after that, according to the affidavit.
Allegations in affidavits have not been proved in court, and defendants in criminal cases should be presumed not guilty unless they are convicted.
De Sousa has not been arrested in connection with the incident, so Judge Pro Tem James George ordered him to report to the Douglas County Jail to be processed and fingerprinted by Sunday afternoon.
Chief Assistant District Attorney Eve Kemple requested that George set De Sousa's bond at $25,000 own-recognizance, meaning De Sousa could be released from jail without paying anything after he is processed. However, George set De Sousa's bond at $15,000 own-recognizance.
As bond conditions, Kemple asked that De Sousa have no contact with the alleged victim or any nonlaw-enforcement witnesses. Kemple also asked that De Sousa give his passport to Judge Sally Pokorny, who will preside over the case. De Sousa is a native of Luanda, Angola.
As the Journal-World has reported, De Sousa announced his decision to leave the basketball team for "personal reasons" on Oct. 16.
De Sousa's next court hearing is set for Jan. 6.