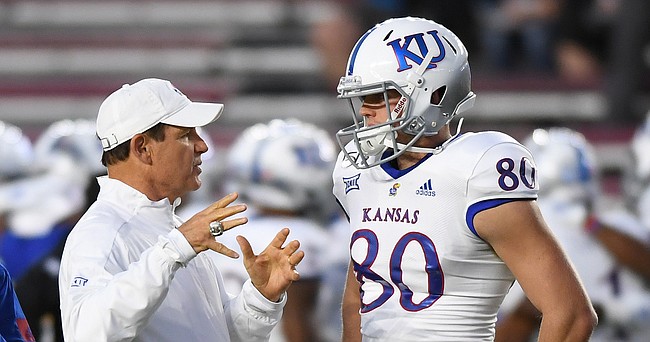 Senior punter Kyle Thompson, who holds two of the highest season punting averages in Kansas football program history, won't be booting the ball for the Jayhawks anymore.
Thompson announced Wednesday afternoon his decision to enter the NCAA's transfer portal as a graduate transfer and conclude his career elsewhere in 2021.
An undisclosed ailment kept Thompson from suiting up for KU's four most recent games.
A 6-foot-4, 222-pound specialist from El Cajon, Calif., spent nearly five full seasons in the program after redshirting during his first year, in 2016. Thompson cited his "own personal reasons" for going another direction to close out his career — with the NCAA's blanket waiver for eligibility due to the pandemic, Thompson could theoretically have played at KU again next year.
"To my coaches and current teammates, I wish them nothing but the best moving forward," Thompson wrote in a note he posted to Twitter, "as I know that the team will continue to improve under (head coach Les) Miles' leadership."
In 2019, Thompson averaged 44.5 yards per punt, the third-best mark in KU football history. He averaged 43.3 yards a punt in 2018, which ranks 10th all-time at KU, and led the Big 12.
Thompson, one of several players to take on KU captain duties for a game at some point this year, thanked Miles for allowing him to lead "and providing a path for me to help develop and grow as a player and a person."
One of the busiest specialists in college football during the opening few weeks of the season, Thompson punted 26 times in KU's first four games before he was unable to play for unspecified reasons. Thompson averaged 39.9 yards per punt. Twelve of his kicks ended with a fair catch and nine punts set the opposing offense up inside its own 20-yard line.
Since Thompson left the lineup, freshman Reis Vernon took over as KU's punter. The 6-2, 194-pound specialist from Bixby, Okla., is averaging 37.7 yards per punt on 31 attempts, with one touchback and 10 punts resulting in a fair catch. Vernon has put three punts inside the opponent's 20-yard line in his first four games handling punting duties.