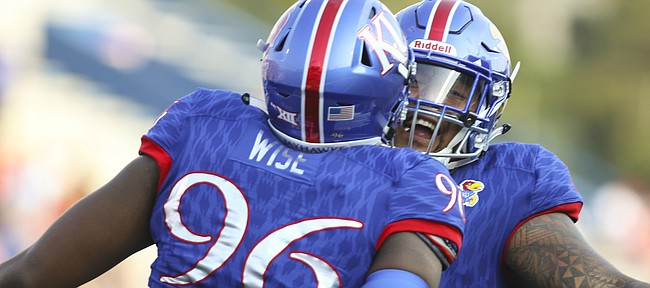 Former Kansas football defensive lineman Isi Holani died Saturday at the age of 24, the program announced Sunday.
A native of Kaumana, Hawaii, the 6-foot-3 defensive tackle played for the Jayhawks from 2016-18.
"Myself and the Kansas football family are saddened by the loss of one of our very own," KU head coach Les Miles said Sunday in a statement. "He was a great member of our program and will always be remembered for his dedication to the Jayhawks. My thoughts and prayers are with him and his family. May you rest in peace, Isi Holani."
The cause of Holani's death wasn't made public as of Sunday afternoon.
A junior college transfer from Riverside Community College when he joined KU as an interior lineman, Holani became a popular personality with his teammates and coaches.
After receiving news of Holani's death, former KU teammate Daniel Wise posted his thoughts about their friendship, along with photos and videos on his Instagram account.
"I know that you wouldn't even want me to be upset right now," Wise wrote in the post, "because that's the person you are."
Wise shared that he thought Holani would probably crack a joke and tell his teammate not to worry about it.
"That's why every time I cry I can laugh about something we did together that was dumb or something," Wise continued. "Your good energy was contagious."
The two remained in contact after both left KU, Wise revealed, adding that their close connection and conversations made Holani's death "not seem real."
Former KU linebacker Joe Dineen told the Journal-World the news of Holani's death caught everyone by surprise.
"Isi was the type of dude that would have your back no matter what, no questions asked," Dineen said. "He was a competitor on the football field but a really good friend off."
An injury in 2017 cut what would have been Holani's senior season with KU short, but he returned to play in 2018 thanks to a medical redshirt. Over the course of his three years with the program, Holani made 23 tackles and two sacks.
The defensive coordinator at KU when Holani played, Clint Bowen, now an assistant at North Texas, posted on Twitter that Holani will be missed and it was difficult to believe he was gone.
"The type of person that made everyone around him better," Bowen wrote. "So thankful that our paths crossed."