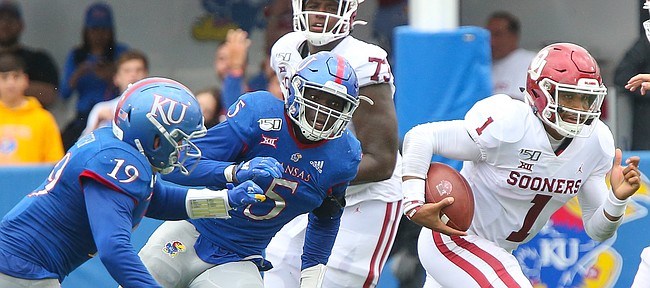 He did not hear his name called during last week's 255-pick draft, but former Kansas edge rusher Azur Kamara is still getting his shot at a spot in the NFL.
Shortly after the seven-round draft wrapped on Saturday evening, Kamara agreed to a free agent deal with the Dallas Cowboys.
His agent, Christina Phillips, announced the signing on Twitter and Kamara responded with a tweet of his own, saying, "Blessed and beyond (thankful) ready to work."
In Dallas, Kamara will have an opportunity to compete for a spot alongside former Kansas defensive lineman Dorance Armstrong Jr., who was a fourth-round pick in the 2018 draft. Daniel Wise, who graduated from KU in 2019, also spent time with the Cowboys organization last season.
Like Kamara, Wise signed with Dallas as an undrafted free agent and spent time on the team's practice squad. He signed a reserve/future contract with the Cowboys in December of 2019 but was waived on March 18.
According to NFL.com analyst Lance Zierlein, it's Kamara's athleticism and long-term potential that earned him the opportunity.
"He's tremendously raw and unskilled as a rusher," Zierlein wrote in his pre-draft overview of Kamara. "Which might work in his favor for teams looking for a long-limbed project to build from the ground up."
Kansas coach Les Miles, who was in charge when Kamara delivered his best season, also recently pointed to Kamara's ability to catch on as a project.
"His measurables are unbelievable," Miles said after KU's pro day in March. "He weighed (242), his arms are longer than they should be (35 and 1/4 inches), and (he's) just an extremely talented guy. Ran a 40-yard dash (4.59 seconds at the combine), so pretty, pretty talented."
While Kamara knows where his immediate future lies, several other former Jayhawks were still waiting for their opportunities as of Sunday night.
Those players still hoping to catch on with an NFL team in the coming days include wide receiver Daylon Charlot, defensive backs Mike Lee, Hasan Defense and Elmore Hempstead Jr. and quarterback Carter Stanley.
None of them were listed on NFL.com senior analyst Gil Brandt's list of the top 316 undrafted rookie free agents available following the draft.
Kamara was Brandt's ninth-best remaining edge rusher.
Despite their quiet phones and absence from Brandt's list, those Jayhawks, and other players like them, continue to believe their day will come.
"My story not even close to being over," Lee tweeted over the weekend, adding #UnderDog to his message.
Former KU standout Chris Harris Jr., who is set to enter his 10th season in the NFL in 2020, is very aware of the position many of these Jayhawks find themselves in. And Harris, who has always been an advocate for the underdog, tweeted his encouragement shortly after the draft ended.
"Who (is going to) be the next Undrafted Dog," the four-time Pro Bowler and Super Bowl 50 champion tweeted at the conclusion of this year's draft.