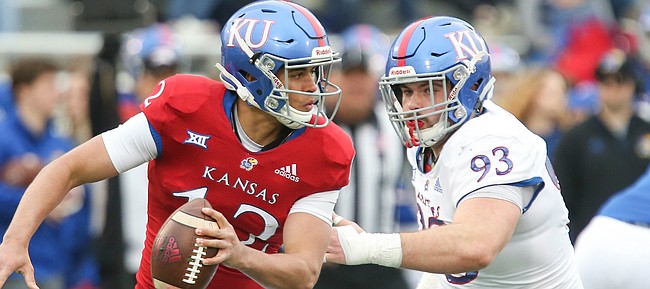 When the COVID-19 pandemic nixed spring football and everything else Miles Kendrick had planned for this stretch of the offseason, the University of Kansas quarterback had a decision to make.
Stay in Lawrence or head back to his home state of California?
It didn't take much contemplation for Kendrick, and even though sequestering comes with some challenges, he's glad he decided to stick around the college town.
The spring semester is still going on after all, albeit in an unexpected online-only format, so Kendrick said concentrating on his coursework and offseason training here seemed like the best option.
"Just to stay focused and stay secluded instead of going home and meeting up with all my buddies that are home and kind of getting distracted," Kendrick explained during a phone interview with the Journal-World. "I mean, that would be nice, but I thought it would be a better decision for me in the long run if I stayed out here and focused on academics, stayed in shape."
A junior on KU's 2020 roster, Kendrick is one of approximately two dozen KU football players who are still in Lawrence. For those who opted to ride out the quarantine locally, Kendrick said the team's coaches have reminded them to practice social distancing and do what it takes to stay healthy.
Having remained primarily isolated without traveling since everything changed due to the pandemic in mid-March, Kendrick said he and other Jayhawks have at least been able to get together in small groups of five or six players at a time to throw the ball around.
"Nothing really organized," Kendrick said, "just us kind of bored, wanting to get out of the house."
No, it's nothing like an actual practice, but those sessions, according to Kendrick, are quite beneficial given the circumstances.
"Really, right now we're at the point where we don't know when everything's going to get back up and get going," Kendrick said. "So in order just to stay ready, I feel like it's essential, because not only can you grow with the guys that you're teammates with but also you can work on little things yourself as if you were kind of in your own spring ball, kind of coaching yourself, critiquing yourself and just trying to get something out of this weird time."
The small players-only gatherings over the past few weeks have included some combination of Kendrick, reserve QB Miles Fallin, receivers Kwamie Lassiter II, Kameron McQueen and Stephon Robinson Jr., tight end Jack Luavasa, safety Davon Ferguson and speedy return man Jamahl Horne.
Kendrick said the football get-togethers allow them to catch up and stay sharp. It might not be ideal, but the QB emphasized the current abnormal reality is challenging for college football players who want to do all they can to stay in shape. Most gyms and weight rooms are closed and, depending on where a player is located, there might not even be a local high school football field open.
"It's kind of tricky on where you actually can go and get some work in," Kendrick said.
In these bizarre times, KU head coach Les Miles repeatedly relays to players through both personal phone calls and Zoom videoconferences in which he can address large groups all at once that players need to take care of themselves and their family members during this crisis, Kendrick shared.
Miles also prompts the Jayhawks to check in with their teammates often, with so many of them secluded and out of their typical routines.
"He challenges us to reach out and at least have a conversation with two guys who aren't around you or might be at home, just to check up and see how they're doing," Kendrick said, adding that's all part of their strategy to remain as close and engaged as possible so when normalcy returns they can get back to work.
Of course, no one knows the timeline for that or exactly what it might look like.
"I don't think really anyone's too sure about when we're going to be able to come back," Kendrick said. "But I think everybody's looking forward to hopefully being able to get back here in the summer and get back with everyone and get back in shape."