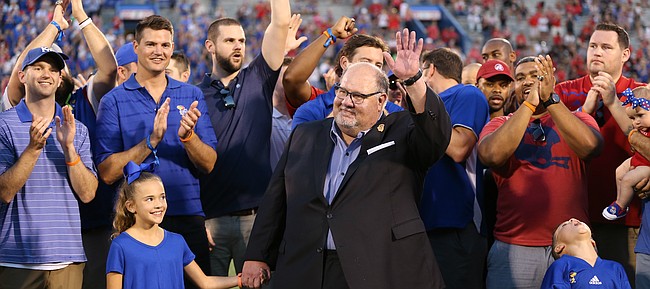 Like most people doing their best to navigate through the COVID-19 crisis, former University of Kansas football coach Mark Mangino isn't sure what will come next in these unpredictable times.
And for the retired Mangino, who often spends his fall Saturdays attending college football games or watching them on TV, that uncertainty is hanging over the sport he loves.
Will there be college football games this year?
"My heart says I sure hope so," Mangino said in a phone interview with the Journal-World, "but my brain says we've got to think about this."
For now, college football administrators are planning to kick off the season in late August as planned, while also having, as Big 12 commissioner Bob Bowlsby described them recently, rudimentary contingency plans.
As NCAA decision-makers figure out what's possible for the 2020 season in the weeks and months ahead, Mangino said safety can't be overlooked.
"The worst thing we can do is bring all these kids back, practice and you start to feel good that (the new coronavirus has) passed," he said, "and then we're not completely through this virus, and fans get it in stadiums and pass it to the kids. We don't want to see that."
When Dr. Anthony Fauci, director of the National Institute of Allergy and Infectious Diseases, declares it's safe, Mangino said, he'll believe it.
If teams are in fact able to play — Texas A & M Chancellor John Sharp said Wednesday in an interview with the Texas Tribune that administrators think a full schedule would be possible even if the season's start is delayed until October — coaches everywhere will have to maneuver through uncharted territory in many ways. In particular, the pandemic cost college coaches and athletes their typical offseason practice and training schedules.
Mangino, who posted a 50-48 record at KU in eight seasons and led the Jayhawks to an Orange Bowl title and a 12-1 record in 2007, found it easier to predict the future when it came to the idea of preparing a team for a season without the benefit of spring football.
"I think some of the established programs, your so-called top 20 type programs, I don't think it will have — it will have an impact, but not as much of an impact on them, as it will on people that are trying to get programs over the hump, turned around," Mangino said.
The former KU coach was speaking in general, but his description of a rebuilding team fits the current situation at the program where he coached from 2002-09. In the 10 seasons since Mangino left, the Jayhawks have gone no better than 3-9, a mark they've achieved five times, including in 2019, the first season for Les Miles.
"They have to develop their players," Mangino continued, while describing the particular challenges of a program trying to reverse its fortunes. "A lot of their players, they don't get a lot of so-called four- or five-star guys. They've got to develop them. I think it's gonna be tougher on teams that are trying to get over the hump than it will be for teams that are established, you know, playing in big bowl games and playoffs every year. It will affect them to some degree, but I don't think as much as these other ball clubs."
Asked specifically about the current direction of KU football, Mangino admitted he's not in position to give a genuine assessment of where the Jayhawks are or which direction they're headed. The former KU coach said he'll watch the Jayhawks on TV for a little while if they're playing on a college football Saturday and he's flipping around to different games but he's not following them that closely, a decade removed from his time at the helm.
"For me it's hard to tell," Mangino admitted from afar, from his home in Naples, Fla. "I don't know the inner workings. I don't know what goes on on the inside."
For the time being, Mangino is hunkered down with his wife, Mary Jane, in their winter home, and the couple keeps occupied by watching TV or getting outside to relax, maybe go for a jump in their pool. They also try to talk to their grandkids and children via FaceTime almost every day, Mangino said.
But football frequently remains on his mind, too, as he finds himself helping some of his friends who are still coaching with schemes and the like.
And there's definitely plenty of time for those types of conversations these days.
"I've got a lot of buddies who are coaches and noncoaches who are bored to death so they call me and see how bored I am," Mangino joked. "And it depends on which day you catch me, you know?"
He reported to be keeping relatively busy, though, with mini projects.
"I'm not complaining," Mangino added. "I'm blessed. I'm very fortunate."