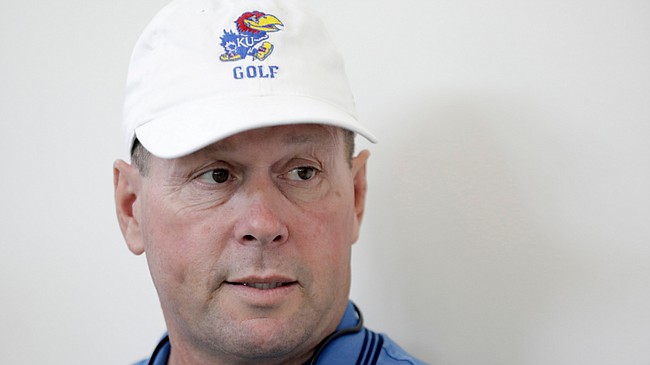 Kansas golf coach Jamie Bermel had just one hour on Monday to run up to his office on KU's campus to grab any supplies or files he might need.
He came home with a stapler and a calculator.

With the NCAA recently granting spring sports athletes an additional year of eligibility to make up for this season's cancellations, Bermel's program is moving into uncharted waters.
Most years, Bermel's roster is made up of 12 golfers and his recruiting plans, as far out as two or three years down the road, are built around that number.
However, this year, seniors Andy Spencer and Drew Shepherd are wrestling with the decision of whether to move on with their lives or return to KU for a second senior season.
If they return, which is the outcome Bermel is rooting for, KU would enter next season with 14 golfers on scholarship.
"I've figured it a million different ways and I was tired of crunching numbers on my phone so I needed my big calculator," Bermel told the Journal-World on Tuesday morning.
The decision at hand for Spencer and Shepherd is complicated in a number of ways.
Both are slated to graduate in May. Both had visions for what life after graduation would look like. And the two teammates have been roommates for the past four years. Anything but returning to KU to finish what they started no doubt will seem strange.
But the silver lining among the madness is that Spencer truly believes he and Shepherd are facing a win-win scenario.
"I wish it was easy," he said. "I would've made a decision by now. But what it really comes down to is, in 5 years am I going to be more disappointed that I went pro or more disappointed that I didn't go back to school?"
Already having gone through the experience of Q School for the Korn Ferry Tour, Spencer knows a professional future is out there.
But given the fact that the entire sports world has stopped and golfers, at all levels, are unlikely to be shy about signing up for tournaments when play resumes, Spencer's biggest question about his future is whether leaving Kansas will leave him without somewhere to play.
"I have most of the information I need, if not all of it, to make a decision," Spencer said. "I just don't want to turn pro now and have nowhere to play until Q School next fall."
Added Shepherd: "We keep getting new information every day. So I'm going to way for Coach Bermel to give me all the information possible before making a decision either way."
Bermel said he had no timeline for when either of his seniors needed to make a decision. He also said the rest of the team was fully behind the idea of Spencer and Shepherd returning.
"We have a team text thread," Bermel said. "And as soon as the story broke that they all get another year, you saw texts that said, 'Come on back!' They want them both back and they want to continue this thing. College golf is, in a lot of ways, the time of your life. It's a pretty good gig."
Spencer knows that. And rather than letting that make the decision harder, he has found the support to be helpful.
"To be able to know I can play with those guys is really comforting," Spencer said. "When we were coming back from Bandon Dunes (Ore.) before everything was officially canceled, I was kind of thinking it might've been the last time I put a Jayhawk on and it kind of hit me. I don't know if I want to go out like that. There's just a lot to think about at this point."
Spencer said he hoped to make a decision about his future by May so he could set his summer schedule one way or the other. Turning pro would mean practice schedules, lining up events and figuring out where he was going to live.
Returning to KU would mean deciding what he wanted to pursue in graduate school and, depending on Shepherd's decision, who he would have as a roommate.
"Both of them asked me what I thought," Bermel said. "And I said to both of them, 'First of all, you're asking the wrong guy because of course I want you to come back.' You're seniors, you're great teammates, you've played a lot and you bring a lot of things to the team.' But there's really no right or wrong decision. I just made sure to let them know that pro golf is always going to be there. College is not. So if they want to come back and experience this for one more year and be on a team for one more year, they should do it."