The Kansas women's basketball team during the 2019-20 season endured another rough run through its Big 12 Conference schedule.
But, as a whole, KU Athletic Director Jeff Long called KU's fifth season under head coach Brandon Schneider "a small step forward."
"As I evaluate programs, I say, 'What is it that we don't have that prevents us from being competitive in women's basketball,'" Long said during a recent phone interview with the Journal-World. "And I just don't see it. So, in this case, I want to be a little more patient than I might normally be because I believe in what Brandon's doing and I see this team coming together."
After finishing non-conference play at 11-0, Schneider's Jayhawks dropped 11 of their first 12 conference games by an average margin of 20.6 points per game.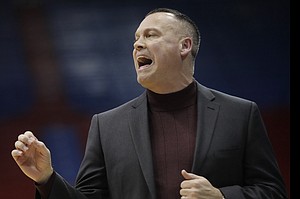 Instead of folding from there, the young squad that featured five first- or second-year players among its top six scorers won three of its final six games to finish the regular season at 15-14 overall and 4-14 in Big 12 play.
"Our most productive players were freshmen and sophomores and Tina Stephens, a junior college transfer," Schneider said.
While the 4-14 record led to another last-place finish for the Jayhawks — the fourth in five seasons under Schneider — Long said KU's strong finish left him hopeful for the future.
"It's clear that Brandon isn't satisfied, I'm not satisfied, these young women are not satisfied with where our program is," Long said. "However, I've watched Brandon coach, I've watched him interact with his student-athletes and there's no question in my mind that Brandon knows how to coach basketball. And he deserves additional time to right this ship and get us on solid footing for us to build for the future."
Currently under contract through the 2021-22 season, Schneider said Monday he appreciated the support from Long and the KU administration. He also said he would not let his contract situation, which he and Long did not address during their recent end-of-season phone conversation, impact how he continued to build the program.
"I don't think it would change how I'm going to operate and the decisions I'm going to make," Schneider said in a phone interview with the Journal-World. "I've always felt that to do right by the program, you have to make long-term decisions. You don't get hired at a place like Kansas to make selfish decisions. … I want to get the program to a certain level, but once it's there I also want it to be built to last."
Schneider, who is now 54-97 overall and 11-79 in Big 12 play in five seasons at KU, classified his recent phone conversation with Long as "a really good talk," and he said the two had the same goals for the program.
Schneider also agreed with Long in calling the 2019-20 season a step forward. Not only did it mark KU's first winning season since 2012-13, but it also delivered the most conference victories in his five seasons at Kansas.
KU beat Texas for the first time since 2013, landed a player on the Big 12 all-freshman team (5-foot-7 guard Zakiyah Franklin) for just the fourth time in Big 12 history (Lauren Aldridge in 2015, Carolyn Davis in 2010 and Krysten Boogaard in 2008) and played its best basketball of the season in late February and early March. All of that came after KU lost two key players to injury back in October and had to adjust on the fly.
"With young teams, those are the things you have to look at and you have to celebrate," Schneider said. "We believe very strongly in how we're doing it and feel like we're closer and closer to being where I think everybody wants us to be."
The biggest reason Schneider and his coaching staff believe that is because this was the first team in his five years at KU made up entirely of players the current coaching staff recruited.
Beyond that, Schneider said KU's incoming recruiting class, which features three 4-star players from overseas along with redshirt freshman Chandler Prater, who was injured in October after being one of KU's most highly touted Kansas City-area signees, should provide depth, balance and added talent to the roster for the 2020-21 season.
KU also is expected to return 86% of its scoring and all but two players from this season's roster that, had it not been for COVID-19 crisis, likely would have earned a spot in the WNIT and another couple of weeks to practice, play and improve.

"We're certainly not where we want to be," Long said. "But I think we took a step in the right direction this year and now we have to build on it next year. Brandon and I agree on that, and there's no question we need to see that kind of improvement next year, as well."
Added Schneider when asked if he expected next season to be his best yet at KU: "It should be. No question. This is the most confident I've been in our roster in our time here."