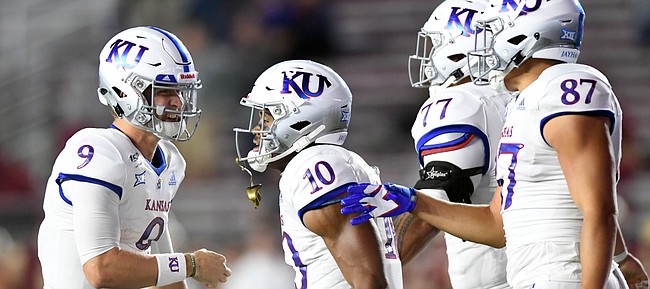 True, the scarcity of Kansas football victories during the previous three years reduces the number of viable candidates, but a couple of key veterans didn't mind identifying the Jayhawks' win at Boston College as the most significant they've experienced.
Three days after the resounding 48-24 win in Massachusetts, senior safety Mike Lee replied instantly when asked where he would rank the result in terms of the level of satisfaction it provided the players.
"One," Lee said.
"Just people saying we were going to get blown out by 21," Lee said of what made this victory feel unique. "People just doubting us."
Fifth-year senior quarterback Carter Stanley agreed the win felt bigger than any he had experienced at KU, in terms of the potential the Jayhawks showed and what it could mean for the team's ceiling in the weeks ahead.
"To go off and play another Power Five team like that," Stanley said of what made it stand out, "and just the feeling we had in the fourth quarter looking up in the stands and seeing nothing but KU fans, it was really special."
Kansas hadn't won on the road against a Power Five team since Oct. 4, 2008, at Iowa State. The win at Boston College snapped a 48-game losing skid for the program in that category.
KU is now 7-31 since the start of the 2016 season, when both Lee and Stanley played as freshmen.
"We were just focused on going out, playing the game, playing our game," Lee said, "and just being more physical. That's what we were doing. We were the most physical team. The most physical team comes out with the victory."
Sosinski's status
The KU offense performed well at Boston College without one of Stanley's regular targets, senior tight end James Sosinski.
On Monday during Les Miles' weekly press conference, the head coach didn't have much of an update on Sosinski's status for KU's next game, on Saturday, when West Virginia (2-1) visits Lawrence (3:30 p.m., ESPN+).
"Yeah, I think that HIPAA would not allow me to give too much," Miles said. "But I think he's somewhere between 10 days and five days out."
In the absence of the 6-7, 260-pound Sosinski, junior tight end Jack Luavasa caught a 19-yard touchdown pass from Stanley. And freshman tight end Mason Fairchild came within inches of grabbing another TD in the end zone, while finishing with one catch for 9 yards.
Stanley up for weekly award
Stanley's performance at BC, where he connected on 20 of 27 throws for 238 yards and three touchdowns, landed him on this week's list of Manning Award Star of the Week candidates.
Fans can vote for Stanley on the Allstate Sugar Bowl's Facebook page.
Stanley is up against these QBs: Southern Miss's Jack Abraham, Central Florida's Dillon Gabriel, Washington State's Anthony Gordon, Oklahoma's Jalen Hurts, Navy's Malcolm Perry, Florida Atlantic's Chris Robinson and Alabama's Tua Tagovailoa.
Miles on Big 12
KU's 24-point win at Boston College kicked off a fairly successful weekend for the Big 12.
The following day, Oklahoma trounced UCLA, 48-14; Texas handled Rice, 48-13; Kansas State pulled off a road upset at Mississippi State, 31-24; West Virginia knocked off North Carolina State, 44-27; Oklahoma State won at Tulsa, 40-21; and TCU went to Purdue and prevailed, 34-13.
"I think the Big 12 is making a mark and making a point that postseason there should be a (college football playoff) team," Miles said on the league's media teleconference Monday morning.
Only two Big 12 teams lost this past weekend. Iowa State narrowly dropped its rivalry game against ranked Iowa, 18-17, at home. Texas Tech fell, 28-14, at Arizona.
Team of week
ESPN college football analyst Kirk Herbstreit pegged KU his team of the week after the Jayhawks' win at BC.
The Football Writers Association of America also named KU its national team of the week.
KU-TCU kickoff
The next time KU plays on the road the game will be readily available for fans in Lawrence.
The Big 12 announced Monday KU's Sept. 28 game at TCU will kickoff at 11 a.m. and air on FOX Sports 1.