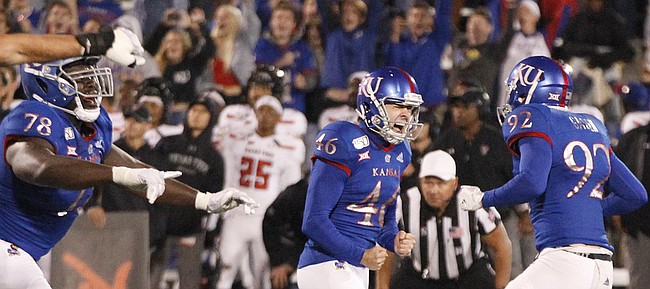 Incognito no longer, a couple of Kansas football specialists found themselves directly in the middle of the limelight as the Jayhawks and their fans alike rollicked Saturday night on the field at David Booth Kansas Memorial Stadium.
There would have been no party at all at the fourth quarter's conclusion without long snapper Logan Klusman and kicker Liam Jones.
One of the lesser known Louisianans on the KU roster, Klusman recovered a live football in the final seconds against Texas Tech, setting up Jones' 32-yard field goal and a 37-34 homecoming victory.
"Yeah, that's a pretty normal game for a long snapper, right?" a grinning Klusman said of an improbable sequence.
The Jayhawks and Jones ended up with two cracks at a go-ahead field goal in the final 13 seconds of the fourth quarter thanks to Klusman's calm reaction in the midst of some special teams chaos.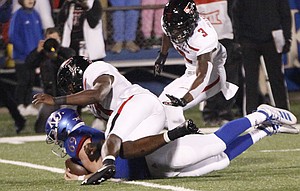 With his snapping and blocking responsibilities on KU's field goal unit, Klusman didn't see Texas Tech block Jones' 40-yard field goal try. But he certainly heard it. Klusman said he looked in front of him to try to locate the ball when he saw Tech defensive back Douglas Coleman III grab it out of the air.
"I pretty much stuck to a gap, along with a bunch of the other guys, and we chased the outside. And once I saw him turn his head to, I guess try to toss it back," a shrugging Klusman recalled, "I jumped on the ball and that was it."
In the moment, as Klusman and his teammates raced to their spots to try to prevent a Red Raiders miracle score, the long snapper figured Coleman would run out of bounds and try to get Tech to overtime, with the game tied at 34.
"Instead, I guess he was trying to make some superhero toss back play," Klusman said of a botched lateral that landed on the turf, "and he ended up giving it to us."
Klusman handed the ball to the umpire and was able to refocus — and even get one more practice snap in — on the sideline during an ensuing Tech timeout.
"We were ready to rock and roll for the next kick," Klusman said.
Before that could happen, though, KU head coach Les Miles wanted to say something to Jones, who had just seen one of his kicks blocked for the fourth time in two games.
"I'm not letting you kick unless you smile," Miles told Jones, who always wears a stoic look during games.
Said Jones: "I told him I wanted to make this kick first."
A junior from Choctaw, Okla., Jones said once KU recovered the blocked kick he made sure to "hit a big mental reset" so he could enter his next attempt as if the previous one never had happened — something he does for every kick, regardless of the outcome.
Jones entered what he said could have felt like an "awkward situation," with confidence. So the pressure of kicking a potential winning field goal with 0:02 showing on the clock didn't get to him.
"The whole situation kind of felt numb to me," Jones said. "It was just me and wherever that ball was and the uprights. I try to keep it simple like that."
If he was thinking about anything other than the kick, Jones said, it was that his teammates watching on the sideline "deserved" to see him put it through the uprights.
Though the kicker didn't realize it, his head coach wouldn't witness the dramatic kick.
"I didn't see it go through," Miles admitted during his postgame press conference. "I had my eyes closed," adding he "always" prays, "early and late."
Once he opened them, Miles could finally see Jones smile, as the kicker raced down the field with one finger pointing skyward and his entire team sprinting after him.
It was during that hysteria that Jones finally felt nervous.
"I don't know if I was running for the celebration or running for my life," Jones joked.
Usually reserved during games and practices, Jones said the moment brought him genuine joy. And it reminded him of Miles' repeated message to the Jayhawks that winning takes everyone on the roster executing his role.
"It absolutely does," Jones said. "There are a lot of plays that led up to that kick. I'm just so grateful and thankful for all those guys on the team."
The KU players who usually occupy the spotlight expressed their gratitude for both Jones and Klusman after the specialists helped the Jayhawks break their four-game losing streak.
Quarterback Carter Stanley called Klusman's recovery "unbelievable," and said he knew Jones would "drain" his second field goal.
"Those last couple of minutes were a circus," Stanley said.
Running back Pooka Williams Jr. said all of the Jayhawks enjoyed watching a couple of specialists deliver in crunch time.
"Everybody on the team had to be a part of this victory," Williams said. "One person couldn't go out there and do it by themselves."
Klusman said the crazy ending felt special to him, Jones and holder Donovan Gagen. But that doesn't mean they want to be the stars every week.
"We get our praise during practice, but honestly, our whole thing is to go unseen as specialists," Klusman said. "I think us as a whole, it's nice to get praise for a game or two, but we're just trying to do our job and kind of keep our heads down."