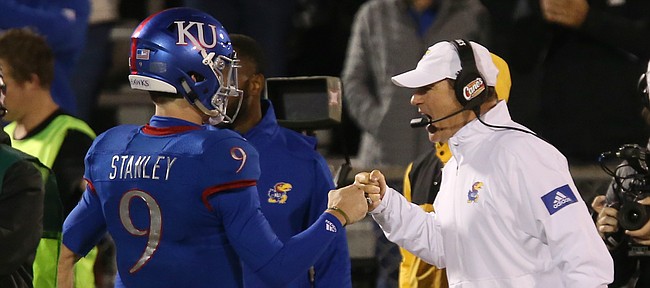 A little more than an hour after the entire Kansas football team celebrated its last-second victory over Texas Tech with a swarm of fans on the turf Saturday night at David Booth Kansas Memorial Stadium, quarterback Carter Stanley tried his best to recall the "blur" of the frenzied scene to reporters when a shout from the hallway interrupted him.
"He's a stud!" offensive coordinator Brent Dearmon shouted in the direction of Stanley, following the senior's 415-yard performance in a 37-34 KU win.
Stanley wasn't feeling worthy of much acclaim early on against the Red Raiders. The Kansas offense that looked so modern and explosive a week earlier at Texas was nowhere to be found for much of the first half.
"I'd say 90% of it was me," said Stanley of KU's flat start, as Tech built a 17-0 lead. "I felt great before the game, felt great in warmups."
All of that changed for the 6-foot-2, 198-pound QB from Vero Beach, Fla., on the first snap of the night.
"I'm just kind of pissed at myself for not moving on on that first play," Stanley said of throwing an interception on KU's opening snap, instead of setting a tone in the opposite direction.
Stanley, who would go on to finish 26-for-37 through the air, with three touchdowns, said he failed to go into a second progression as he locked in on junior receiving target Andrew Parchment.
"It was kind of a force there," Stanley said.
It took some time and assistance for him to recover.
"Something just kind of felt weird," the QB said of the early stages, before KU rallied, and finished with 527 yards of offense, averaging 7.6 yards per snap. "It's not that the looks were different that they were giving us. But I just felt kind of a little bit off. My teammates helped me get back into it, my coaches helped me get back into it, and we played some great team ball tonight."
Even though Tech (3-5 overall, 1-4 Big 12) mostly kept KU running back Pooka Williams Jr. contained, the Jayhawks kept handing him the ball early.
After four uneventful offensive possessions, the Jayhawks (3-5, 1-4) found themselves down 17-0. It was at that time that KU had committed enough to Williams and the run that Dearmon finally was able to modify the play-calling and expose a weakness.
"It's a great feeling when every time we go to the sidelines and we talk about adjustments and one of them is just chuckin' bombs," a grinning Stanley said after hitting Stephon Robinson Jr. for chunk yardage gains of 53, 48 and 65 yards, and connecting with Andrew Parchment on a 70-yarder. "That's pretty sweet. So that's cool. This offense just has so many different components to it, which is incredible."
According to Parchment (seven catches, 109 yards, TD), KU's receivers viewed it as their responsibility to help Stanley recover and get the offense rolling.
"Receivers have got to go out there and make plays," Parchment said on a night that Kwamie Lassiter II (75 yards) led the Jayhawks with eight catches and Robinson torched Tech for six receptions, 186 yards and a pair of long TDs. "We don't look for Carter to be Peyton Manning. We don't look for Carter to be Tom Brady. We just ask him to put it in our area, and it's our job to come down with the ball. That's the type of pressure that we want on us as receivers. Anytime the ball's in the air, it's our job to go attack the football. I feel like we keep doing that we'll be in good position."
Though always confident, KU's receivers had to practice some patience as the offense settled in. Parchment said Tech's secondary forced KU to run the ball early.
"They were playing deep, I feel like sometimes they were double, triple teaming, me, Steph, as well," Parchment said. "We really couldn't do anything down the field, so we were forced to run the ball. I'm just happy that we ran the ball enough for them to change it up and we could attack the ball deep again."
The recovery and clutch victory pleased KU's head coach, Les Miles, who said the rush of fans during the postgame hysteria on the field nearly left him "squished."
"There was a pack of people out there. Great fun," a beaming Miles added.
"We've got a good team," Miles went on to say. "We've just got to play consistently that way for the length of time of the game, and we will be very happy."
In the midst of a very different postgame vibe seven days earlier, several Jayhawks spoke optimistically about the remainder of the season, following a 50-48 loss at Texas. The B-word — bowl — was even brought up, with five games left on the schedule.
Now that KU is down to four and began the stretch with a dramatic victory, the Jayhawks must win three more times to attain automatic postseason eligibility.
Stanley was asked late Saturday night whether a bowl appearance was realistic for the Jayhawks.
"One hundred percent. Yeah," Stanley replied.
"I mean, this team, we're more than capable of being a bowl team. We've known that since before these coaches got hired," Stanley said. "I can't have more confidence than I do right now in the guys in that locker room. They're a special group. These coaches are incredible. And really, it truly comes down to, the saying is pretty cliche, but it's about us. If we execute, if we play our best ball and get out there and execute these last four games, we'll be in a bowl."
KU hosts rival Kansas State (5-2, 2-2) next Saturday.
In the weeks that follow a Nov. 9 bye, the Jayhawks travel to Oklahoma State and Iowa State, before wrapping up the schedule in Lawrence against Baylor.